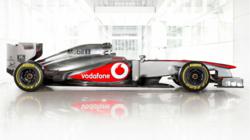 Our active promotion and interaction on social media saw incredible growth across all of our social platforms.
Woking, Surrey (PRWEB UK) 18 February 2013
On Thursday 31st January McLaren immersed its global fan base in the live reveal of the 2013 Vodafone McLaren Mercedes MP4-28 Formula 1 car through a unique presenter-led live stream, airing across multiple social media channels and generating mass global engagement.
The MP4-28 car reveal was streamed directly from the McLaren Technology Centre, the company's Woking headquarters, via YouTube and was shared through Facebook, Google+ and promoted on Twitter.
The live stream was the finale to a large-scale digital activation campaign. This began two weeks ahead of the launch with the release of targeted teaser content through McLaren's established presence on Twitter, Facebook and YouTube, as well as reaching fresh audiences via its new Google+ page and official website, McLaren.com.
McLaren shared a unique retro movie poster designed to embrace its 50 year celebrations and promote the MP4-28 reveal, which was uploaded as a new Facebook and G+ cover photo, as well as a downloadable wallpaper on McLaren.com, with over 800,000 people viewing the artwork and over 25,000 fans engaging with it on Facebook.
A bespoke MP4-28 teaser video was also created, using both new and heritage car footage, serving as sharable piece of online content. The video received over 200,000 views on the official Vodafone McLaren Mercedes YouTube channel and served as a vital tool in increasing buzz and excitement in the lead up to the live reveal.
"The launch of the MP4-28 through our social media channels really opened up Vodafone McLaren Mercedes to our fans – one of our key aims for the 2013 season," commented Rob Bloom, Online Manager, McLaren.
"Through the live stream we not only engaged with our current fan base but also encouraged new followers to engage in the content. Our active promotion and interaction on social media saw incredible growth across all of our social platforms, including 40,000 new Facebook fans within a week. We're keen to build on this through similar targeted digital activation campaigns throughout 2013."
The live stream itself launched half an hour before the MP4-28 reveal started, acting as an informed, behind-the-scenes build up show similar to those seen before televised sporting events. In turn this presented a unique opportunity to interact with the presenters via Twitter, producing genuine live engagement between fans and the Vodafone McLaren Mercedes team. Resultantly #McLarenMP428 became the top UK Twitter trend throughout the event and the 6th worldwide.
About Vodafone McLaren Mercedes
New Zealand racing driver Bruce McLaren founded the McLaren team in 1963. It entered its first Formula 1 race in 1966 and won its first Grand Prix in 1968. More than 40 years and 182 Grand Prix victories later, Vodafone McLaren Mercedes is still renowned as one of the sport's most successful teams, and has won eight constructors' and 12 drivers' championships with motorsport legends Emerson Fittipaldi, James Hunt, Niki Lauda, Alain Prost, Ayrton Senna, Mika Hakkinen and Lewis Hamilton.