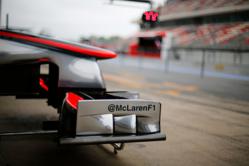 Our fans are at the heart of our digital strategy
Woking, Surrey (PRWEB UK) 10 May 2013
The move, which has seen the industry-acclaimed @TheFifthDriver modified to @McLarenF1, will be marked at this weekend's Spanish Grand Prix with the new handle appearing on the front wing endplate of Jenson Button and Checo Perez's MP4-28.
The change will make it easier for McLaren's global fanbase to identify and engage with the team on Twitter and reflects the wider digital engagement strategy to make the team as accessible as possible to a greater number of people – in turn providing them with a unique insight into the heart of a living and breathing Formula 1 team.
Over the last 12 months, Vodafone McLaren Mercedes has seen strong growth in follower numbers and engagement across its social media channels, owing to a revised approach to content strategy, social media campaigns and entering new and emerging digital platforms:

During the last 12 months, the number of followers on the official Vodafone McLaren Mercedes Facebook page has increased by 40% to over 700,000.
In the same period, Twitter numbers have grown by 80% to almost 350,000
Since entering Google+ in December 2012, follower numbers have surpassed the 100,000 mark
As part of a holistic digital engagement strategy, the official Vodafone McLaren Mercedes website was also re-launched at the start of the 2013 season. Developed in a responsive format, the new website further empowers fans to stay up to date with the latest from the team across multiple devices. As part of the relaunch, the team's long-standing adaptation of a second-screen viewing experience – now rebranded McLaren LIVE – continues to add to the race-day experience for fans.
McLaren.com/Formula1 will also be launching in Spanish, reflecting McLaren's increasingly global fan base, which has been boosted by the signing of the latest Vodafone McLaren Mercedes driver, Sergio Perez.
These developments are the latest in a series of achievements for a team that has developed a reputation for its forward-thinking approach to digital and social media – a fact that has been proven over the past four years. McLaren were the first Formula 1 team to offer fans the opportunity to view live telemetry during races and practice sessions, the first front-running team to start using Twitter, and more recently the team has embraced the full breadth of its social media platforms to spectacularly live-stream the MP4-28 car reveal.
Martin Whitmarsh, Team Principal, Vodafone McLaren Mercedes said: "Our fans are at the heart of our digital strategy. We've strived hard to develop world-leading digital platforms that our fans can enjoy, while creating compellingly insightful content that draws them in and makes them feel part of our team.
"@TheFifthDriver has not retired. Through the new handle of @McLarenF1, the mysterious micro-blogger will continue to give our fans unique access to the inner workings of one of the most successful teams in the history of Formula 1, the pinnacle of global motorsport."
About Vodafone McLaren Mercedes
New Zealand racing driver Bruce McLaren founded the McLaren team in 1963. It entered its first Formula 1 race in 1966 and won its first Grand Prix in 1968. More than 40 years and 182 Grand Prix victories later, Vodafone McLaren Mercedes is still renowned as one of the sport's most successful teams, and has won eight constructors' and 12 drivers' championships with motorsport legends Emerson Fittipaldi, James Hunt, Niki Lauda, Alain Prost, Ayrton Senna, Mika Hakkinen and Lewis Hamilton.