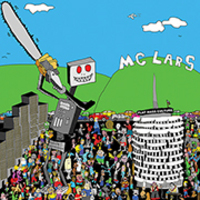 Los Angeles, CA (Vocus) October 6, 2009
Self-proclaimed originator of "post-punk laptop rap" MC Lars, whose hit album This Gigantic Robot Kills (out now on Crappy Records/Oglio), continues to wow critics and fans across the globe. His video for the second single, "True Player for Real", featuring "Weird Al" Yankovic (on accordion) and Wheatus, made entirely from sock puppets, will debut as the iTunes Music Video of the Week, a free download feature, on October 13th. The title track, "This Gigantic Robot Kills", is slated as the third single and will hit mainstream and college radio this fall.
Kicking off the worldwide This Gigantic Robot Kills campaign, MC Lars headlined Dutch software company 4Worx's first annual hip-hop festival, where he played to sold-out audience of over 1,000 people in Amsterdam. The European press descended on the event, interviewing Lars on national television and in newspapers, where a freestyle done during a radio interview became a hit playing daily for the next five months on Amsterdam Radio. MC Lars then went on to be featured as a breakthrough artist at MarsCon in Minneapolis a week later, rocking heads at the growing sci-fi convention that highlights some of the best underground indie hip-hop acts in the world.
The next stop for MC Lars was his March showcases at SXSW in Austin, Texas and the debut of the first single and video, "Guitar Hero Hero...", featuring Parry Gripp and Paul Gilbert (now an interactive video at the MC Lars artist site). The fan and press response was overwhelmingly positive. The spring tour featured shows booked with rap legends Nas and Ludacris, as well as a headlining set at the prestigious Rochester Lilac Festival in upstate New York, playing to a sold out arena of 10,000. A successful East Coast club run followed, where the "Teenage Dirtbag" hit-makers Wheatus joined Lars on stage in Manhattan for a rousing rendition of "True Player for Real".
From there, Lars returned to Australia for the third time, selling out 300-400 capacity clubs across the country, receiving strong press and radio reaction for the record. In June, Lars was headlined the local stage at the Live 105 BFD festival at the Shoreline Amphitheater, playing to thousands of Bay Area fans where "Hipster Girl" has been a long time radio favorite. This summer also saw MC Lars performing an interpretation of Stanford professor and renowned classical composer Mark Applebaum's "Metaphysics of Notation" score and the Cantor Art Museum at Stanford University. At a breakout concert in the world of experimental sound design and performance art, Lars shows that he will never stop pushing boundaries artistically.
MC Lars headlined the Nerdapalooza festival in Florida, impressing the crowd and showing he still had love for a scene (Nerdcore) that he had transcended commercially and artistically. At this year's San Diego Comic-Con, Lars signed autographs for post-punk laptop rap fans at the convention center and then headlined the first annual After-Con, a sold out after party attended by many influential Hollywood producers and Internet taste-makers. In September, Lars completed a song for the American Heart Association, whose marketing team are currently launching a national campaign to teach kids about CPR, of which MC Lars will be the main figure.
MC Lars is gearing up for another return to the UK with old friends Bowling for Soup, new friends Zebrahead and Crappy Records band mates The Leftovers. The Agency Group is currently booking a winter headlining club tour for Lars, and plans are underway for a Moscow New Year's Day show. MC Lars will be featured in the newly launching Rock Band Network in November. He and his management are currently in meetings with Hollywood studios to develop a hip-hop musical, a comedic version of "High School Musical" meets "8-Mile", as well as developing a Saturday morning kids' TV show for Lars to host.
Branded as the ideal label for a cutting edge artist like MC Lars, Oglio Records has made a name for itself in the past years by releasing albums from underground legends Kool Keith and Wesley Willis. Oglio Records teamed up with the Texan pop-punk quartet Bowling for Soup's front man Jaret Reddick and Los Angeles based pop-punk band Size 14's Linus Dotson for their new Crappy Records imprint in 2008, and have gone on to successfully promote MC Lars as their breakthrough artist of the year. This is just the beginning! Check out http://www.mclars.com, http://www.facebook.com/mclars, and http://www.myspace.com/mclars for videos, dates, and more.
###