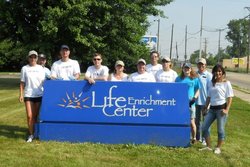 I am very proud of the giving spirit of our team at MCM
Dayton, OH (PRWEB) June 21, 2010
Committed to serving the global community and giving back to those that need assistance the most, leading multi-channel distributor MCM Electronics, part of the global Premier Farnell Group, continues to be a leader in the drive to improve the community - through both financial contributions and volunteerism.
In June of this year, MCM Electronics participated in the United Way of Greater Dayton, Day of Action. A group of 8 employees worked at the Life Enrichment Center, a United Way Partner Agency that provides life-building and life-sustaining services to the less fortunate in the Dayton area and surrounding communities. The MCM team helped with yard cleanup, including lawn care, shrub/tree maintenance, weeding and the planting of flowers.
"It was hard work, but it was certainly rewarding to see the difference we were able to make with our time and some good old fashioned elbow grease," said MCM employee Pam Winner-Bockoven. "The volunteers worked hard but still had a great time helping out those that need it the most."
In addition, to volunteering time and energy, MCM employees have also recently donated $1000 dollars of their hard-earned money to the Greater Dayton United Way through company supported programs such as charity casual dress days. This is in addition to the substantial amount contributed annually by the company employees through extensive donation programs.
MCM employees also found the time to raise a total of $3000 for the American Red Cross Haiti Relief Fund. The employees held bake sales, paid for casual dress days and held raffles to help raise these funds within the organization.
"I am very proud of the giving spirit of our team at MCM," commented company President and GM Phil Minix. "We are fortunate to have a close-knit team that works as hard for the community as they do supporting our customers. Community service is a corporate commitment at MCM, and our parent company Premier Farnell Group and we will continue to support worthy causes in every way possible."
About MCM Electronics
MCM Electronics, part of the global Premier Farnell Group, and a leading multi-channel, high-service electronics distributor supporting millions of consumer electronic repair professionals, audio and video installers, broadcast and entertainment professionals and hobbyists across the North America, is known for offering a huge selection of components, test equipment and accessories from 440+ top manufacturers for design engineer and maintenance professionals. With multiple sales channels, customers do business with MCM Electronics through contact centers, field sales forces and a world-class website: http://www.mcmelectronics.com
# # #