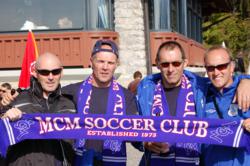 Touring with this great club is always a wonderful experience and having the opportunity to visit such a famous city as Cannes is exciting for me personally and I am sure for all of our club members
(PRWEB) October 11, 2012
Canadian Adult Soccer Club, Oakville MCM, from Oakville, Ontario, is set to depart to Cannes, France on Friday, October 12th for a one-week "friendly soccer tour." While abroad the Canadian squad will play a featured match against AS Cannes ex-professionals.
Oakville MCM was founded in 1975 by Manfred Muntwyler and is based in Oakville, Ontario, Canada. The club currently has 70 playing members ranging in age from 32 – 55 participating for one of the clubs four teams in veteran leagues in the Greater Toronto Area.
The club has won many honors, including MCM 1 winning the Championship again this year, and is proud of its reputation as a club of excellence that displays fair play on the field and good character off the pitch.
As a result of having such good club chemistry Oakville MCM Soccer Club has been able to tour frequently over the last 17 years. In 1995 and 1998 MCM visited England, in 2000 and 2002 they went to Hungary, in 2006 Charleston, South Carolina was the club's tour destination, in 2008 they toured Switzerland and in 2010 MCM Soccer Club visited Madeira, Portugal.
Everyone within the club is excited about the 2012 tour to Cannes, France and MCM President Manfred Muntwyler commented, "Touring with this great club is always a wonderful experience and having the opportunity to visit such a famous city as Cannes is exciting for me personally and I am sure for all of our club members."
The tour was put together on behalf of MCM by EduKick and Sport International Organisation two partner companies that specialize in football and education programs for international students.
EduKick owner and V.P. Joey Bilotta is a member of the Oakville MCM Club and he had this to say about the trip, "When the club approached us to see if we could provide a tour schedule in France, both Jon Morgan, EduKick G.M. and I were delighted and honored to help organize. It is very gratifying for us to be able to share something so special with all of our friends within the club and we were confident that our partners in Cannes would provide a top-notch footy tour."
During the trip MCM club members will play 3 matches with the highlight being a match against AS Cannes veteran team containing many former professionals who represented the AS Cannes club in the last few years and it is rumored that famous former French Internationals, Patrick Vierra and Johan Micoud may be in the AS Cannes line-up...so MCM could have their work cut out for them on the pitch in Cannes.
In addition to the three friendly matches, MCM club members will also participate in a number of cultural excursions and social activities, including a full day trip to Monaco. They will also be visiting the Cannes Mayor's office to make a formal presentation to the Mayor and providing his office gifts brought from Canada.
MCM Head Coach Peter (Capello) Ranells also commented, "During each tour the club members and players conduct themselves impeccably earning high praise from our hosts for both the standard of play on the field and the conduct shown off the field. Through these tours Oakville MCM has helped to enhance the reputation of Canadian soccer both in Europe and the United States."
Oakville MCM - Mission Statement: Our mission is to be a leading family and community orientated soccer club. We are committed to providing a safe and sustainable environment to all our members. We lead through innovation, commitment and outstanding performance. Our standards are high. We define excellence.