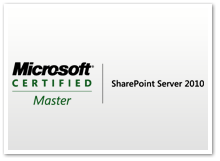 I think it speaks volumes to the commitment KnowledgeLake has for its employees when you consider that less than a handful of Microsoft partners commit the resources and time necessary to have two MCMs on staff. - Eric Lytle
St. Louis, Missouri (PRWEB) December 13, 2012
KnowledgeLake, the market leader in Microsoft SharePoint ECM solutions, is proud to announce Eric Lytle, senior SharePoint developer consultant, has earned Microsoft Certified Master (MCM) certification for SharePoint 2010. MCM is the highest level of technical certification offered by Microsoft and the SharePoint MCM recognizes individuals with the deepest, technology skills on the SharePoint platform.
Microsoft Certified Masters for SharePoint 2010 have proved to create robust, scalable and high-quality solutions that meet the most demanding customer needs. These experts have the deep product knowledge, skills and expertise to successfully design, build, deploy, migrate and maintain SharePoint Server 2010 enterprise-class environments.
MCM Certification is a rigorous process that combines an advanced training program at Microsoft's corporate headquarters in Redmond, Washington with a supervised qualification lab and written test. In order to get accepted into the elite training program, applicants must first pass the following steps (in listed order): obtain prerequisite Microsoft Certified IT Professional (MCITP) and Microsoft Certified Professional Developer (MCPD) certifications, have an application (including a written work example) approved, and pass a grueling interview process. There are approximately 120 SharePoint MCMs in the world today. About 40 percent of SharePoint MCMs are from the United States, with about half being Microsoft employees.
"Eric's success in achieving this certification is a testament to his world-leading knowledge and commitment to SharePoint technology. Our clients will certainly benefit from the unparalleled expertise that comes with having a SharePoint MCM on staff. Eric's accomplishment speaks to the caliber of our team and we are proud of his effort in earning this impressive Microsoft designation," said Julie Lintner, director of professional services, KnowledgeLake.
With eighteen years of experience in the IT industry, Eric holds a number of industry certifications, including: Microsoft Certified Professional Developer, Microsoft Certified IT Professional, Certified Document Imaging Architect (CDIA+) and Certified Technical Trainer (CTT+) from CompTIA. A member of the KnowledgeLake team since 2008, Eric works on large scale SharePoint ECM deployments and handles large legacy ECM migrations as well as installation and configuration of the various KnowledgeLake products, including development of solutions and upgrades.
"I think it speaks volumes to the commitment KnowledgeLake has for its employees when you consider that less than a handful of Microsoft partners commit the resources and time necessary to have two MCMs on staff. I am truly appreciative for the opportunities available to me at KnowledgeLake," said Lytle.
Lytle is the second KnowledgeLake employee to earn MCM certification. In 2011, Russ Houberg, senior technical architect at KnowledgeLake, earned the MCM certification for SharePoint 2010, in addition to the MCM SharePoint 2007 certification he received in 2009.
About KnowledgeLake
KnowledgeLake develops document imaging related products and solutions for Microsoft SharePoint. KnowledgeLake extends the ECM capabilities of SharePoint, enabling businesses to reduce mailing costs, streamline operations, and achieve regulatory compliance using familiar Microsoft products that most businesses already own and use. KnowledgeLake products and solutions are deployed globally in thousands of organizations in many different horizontal and vertical industry sectors including public sector, healthcare, financial services, transportation and more.