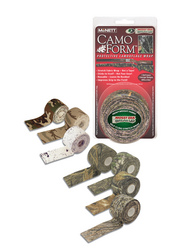 I love the versatility of Camo Form. I carry cases of it when I travel for a production. My weapons get used in so many different scenes that I need to not only protect them, but to change their appearance on the fly
Bellingham, WA (Vocus) October 14, 2010
McNett, industry leader in specialty personal care and gear care and repair products for 30 years, has seen its products used by leading climbers, adventurers and hunters worldwide. And now, McNett's Camo Form® Camouflage Wrap is in the hands of leading men—because Hollywood's finest property masters love the way it makes things disappear.
Camo Form's ease of use makes it a natural choice for protecting and camouflaging outdoor gear, guns, cameras and scopes so they vanish in the woods. But weapons masters like Harry Lu use Camo Form in settings far from the forest. "I love the versatility of Camo Form. I carry cases of it when I travel for a production. My weapons get used in so many different scenes that I need to not only protect them, but to change their appearance on the fly,"says Lu, who has worked on blockbuster films like this summer's hit Inception, The Dark Knight, the Mission Impossible franchise and Pirates of the Caribbean. 'Camo Form makes weapons blend into their background, even if they need to be white in one scene and camo in the next.'
Matt Kime, President and CEO of Tactical Pro Shop in Los Angeles reports, 'I get calls for Camo Form for many more uses than just wrapping weapons. When the Director of Photography needs to hide a Humvee antenna, or make a battery pack disappear in a shot, Camo Form is my go-to choice.
About McNett Corporation
For 30 years, McNett Corporation has manufactured and marketed the finest specialty products for outdoor, diving, watersports, fishing and travel enthusiasts. Our care and repair products are known worldwide by consumers and original equipment manufacturers. McNett brads are the most recognized and trusted in their categories: Aquaseal®, Aquasure®, Seam Grip ®, Freesole®, MicroNetTM, and Aquamira® brands are available in over 70 countries. To locate your nearest McNett Camo Form dealer, please visit mcnett-hunting.com/Dealer-Locator/134.aspx. For more information, see our website at mcnett.com.
NOTE: McNett Corporation has no affiliation with Warner Bros. Studios.
# # #