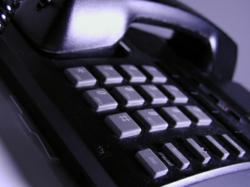 Preparing for a media interview is critical for a successful outcome.
Stamford, CT (PRWEB) April 11, 2013
A Media Interview: Who? Me? Congratulations! Your press release has caught the eye of a reporter who wants to interview you for an article he's working on. Now what? According to Melissa Chefec, medical marketing specialist with MCPR, LLC, "Preparing for a media interview is critical for a successful outcome. If your goal is to be quoted in the media with intelligent commentary and opinion, a little preparation for the interview will go a long way."
Tips for Media Interview Preparation
You're a busy medical professional, and you're an expert on the topic at hand. Do you really need to prepare for the interview? The answer is yes, but not exhaustively. A little advance work will serve you well.
Your public relations partner will help you prepare. She will provide background on the reporter, the publication's audience, the story angle the reporter is pursuing and any additional information that might be helpful. Some reporters will provide a list of questions in advance. That makes your preparation easy. Absent that, here are just two things to think about – and jot notes on – in advance.
1. Think about the 3-5 main points that you want to be sure to convey during the interview. Keep in mind that the reporter drives the conversation. He knows what information he's looking for, and it's your task to answer his questions directly and concisely. But if you've planned the most important points you want to make, it will help you structure your answers.
2. The reporter has read your press release. The purpose of the interview is to dig deeper. You don't want to answer questions with the same exact words that were in the press release and it would be ideal to provide additional information. That might mean doing a little work in advance. For example, you might want to research additional statistical data, think about additional details on the topic, or decide on the best patient profiles to illustrate your points.
Additional Pointers for the Interview.

Your interview will almost certainly be on the phone. So building rapport has to be done without eye contact. But take no more than a moment for chit-chat.
Keep your answers brief and free of jargon. Confirm that your answer has satisfied the reporter's question. Let the reporter know that you want to be as helpful as possible.
If you have any doubts, ask the reporter to repeat the question or explain what he is looking for.
"I don't know" is an appropriate answer if a question strays out of your comfort zone.
Relax and enjoy the experience!
MCPR, LLC was founded in 1994 and specializes in medical marketing and public relations for doctors, hospitals and other professionals in health, fitness and beauty. http://www.mcprpublicrelations.com