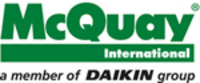 With their unique, custom-modular platform, the Extended-Size Vision air-handling units give tremendous component and sizing flexibility, allowing engineers to configure the optimal air-handling system for their building's environment
Minneapolis, MN (Vocus) February 18, 2009
New Extended-Size Vision™ indoor air handlers from McQuay International are an economical alternative to installing multiple air handlers or a custom system for high-cfm applications. Available in capacities up to 100,000 cfm and with coil face areas up to 160 square feet, the new Extended-Size Vision indoor air handlers are ideal for projects where indoor air quality and high fresh air volume are a requirement, including healthcare facilities, schools, institutions, stores and manufacturing buildings.
These AHRI-certified units are available in dimensions up to 122 inches high and 228 inches wide. The McQuay Variable Dimensioning™ feature allows cabinet sizing in increments of four inches wide and two inches high up to the maximum. "With their unique, custom-modular platform, the Extended-Size Vision air-handling units give tremendous component and sizing flexibility, allowing engineers to configure the optimal air-handling system for their building's environment," said Dennis Nelson, senior marketing engineer, McQuay International.
Retractable lifting lugs provide a balanced, even load for easy rigging during installation. A heavy-duty, patent-pending base rail, up to 12 inches high, handles heavier component loads and allows for adequate condensate trapping. Installation time is greatly reduced with McQuay's patented splice collar, which provides easy and certain section-to-section fit and seal without additional nuts, bolts, screws, gasketing or caulking. Fan selections include double-width, double-inlet (DWDI) airfoil wheels up to 49 inches in diameter; single-width, single-inlet (SWSI) airfoil plenum fans up to 66 inches in diameter; and dual SWSI airfoil plenum fans up to 49 inches in diameter. Factory-installed Digital Ready™ controls optimize air handler performance while minimizing installation costs.
About McQuay International
McQuay International delivers engineered, flexible solutions for commercial, industrial and institutional HVAC requirements with energy-efficient and environmentally responsible products, knowledgeable applications expertise and responsive support. McQuay is a wholly owned subsidiary of Daikin Industries Ltd., a Fortune 1000 company and the second largest air conditioning, heating, ventilating and refrigeration company in the world. McQuay products and services are provided through a worldwide network of dedicated sales and service officers. For more information or the name of your local McQuay representative, call 1-800-432-1342 or visit http://www.mcquay.com
###