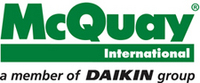 The Enfinity console's high-sill or low-sill design makes it easy to meet the space requirements of new-construction and replacement applications
Minneapolis, MN (Vocus) October 15, 2009
New McQuay® Enfinity™ console water source heat pumps , designed for in-room installation, exceed ASHRAE 90.1 efficiency standard* by up to 35 percent to reduce energy consumption and operating costs. Units can qualify for state or federal rebates and earn points to help achieve LEED® certification. Selectable for standard, boiler/tower or geothermal applications, McQuay® Enfinity™ console water source heat pumps use R-410A refrigerant, which has zero ozone-depletion potential and no phase-out date.
Available in a range of colors, the attractive flat- or sloped-top cabinet has one front and two side panels to allow easy access to water connections, components and controls, helping to reduce installed and maintenance costs.
"The Enfinity console's high-sill or low-sill design makes it easy to meet the space requirements of new-construction and replacement applications," said Mike Paquette, product manager for water source heat pumps at McQuay. "The console unit's GentleFlo™ cross-tangential fan wheel delivers maximum airflow required for proper air circulation along with whisper-quiet operation."
McQuay® Enfinity™ console water source heat pumps are equipped with a MicroTech® III unit controller with the Open Choices™ feature to allow stand-alone thermostat operation for easy, low-cost integration with any building automation system using LONWORKS® (LONMARK® 3.4 certified) or BACnet® communications. A variety of factory-installed piping and valve packages can be selected to further simplify field installation and reduce labor costs. Units are equipped with a removable, non-corrosive polymer drain pan that promotes positive condensate drainage for superior indoor air quality (IAQ). Optional closed-cell insulation is available for sensitive applications to prevent insulation fibers from entering the supply air stream.
*ANSI/ASHRAE/IESNA Standard 90.1-2004, Energy Standard for Buildings Except Low-Rise Residential Buildings, has been established by the Department of Energy as the commercial building reference standard for state building energy codes under the federal Energy Policy Act.
(Reference: http://www.bdcnetwork.com/article/CA6626592.html)]
About McQuay
McQuay International , a wholly owned subsidiary of Daikin Industries Ltd., delivers engineered, flexible solutions for commercial, industrial and institutional HVAC requirements with reliable products, knowledgeable applications expertise and responsive support. McQuay products and services are provided through a worldwide network of dedicated sales and service offices. For more information or the name of your local McQuay representative, call 800-432-1342, or visit http://www.mcquay.com.
# # #