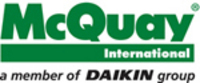 The larger 550-ton units are a natural evolution of magnetic bearing compressor technology
Minneapolis (Vocus) December 3, 2009
The Daikin McQuay® Magnitude™ frictionless centrifugal chiller, already known for its oil-free, magnetic bearing design, is now available in models with up to 550 tons of capacity, making it ideal for mid- to large-size buildings such as schools, universities and hospitals. With industry-leading efficiency, low sound levels and a small footprint, the Magnitude chiller helps owners reduce energy and operating costs, create a comfortable environment and meet requirements for sustainable design, such as Leadership in Energy and Environmental Design (LEED®) certification criteria.
"The larger 550-ton units are a natural evolution of magnetic bearing compressor technology," said Ray Good, director of chiller product management, McQuay International. "This oil-free technology increases reliability and reduces maintenance because there are no conventional bearings and hence no oil management system and associated maintenance costs. Thanks to higher sustainable operating efficiency and reduced maintenance, the Magnitude chiller delivers a lower cost of ownership compared to conventional centrifugal chillers."
With its positive pressure, oil-free design, the efficient performance of the Magnitude chiller is sustainable through its operating life because there is no oil to contaminate the refrigerant and degrade efficiency.
By eliminating the high friction losses of conventional centrifugal compressors, the Magnitude chiller achieves exceptional part-load performance. Part-load IPLV for the 550-ton unit is 0.312 kW/ton, while the full load is rated at 0.531 kW/ton.
Using R-134a refrigerant, the Magnitude chiller has no ozone depletion potential or phase-out schedule. The 400 to 550-ton Magnitude chiller earns two LEED points for Energy and Atmosphere Credit 4, Enhanced Refrigerant Management. The efficient performance of the Magnitude chillers can also contribute to Energy and Atmosphere Credit 1, Optimize Energy Efficiency, for 1 to 19 possible LEED points.
The new 550-ton Magnitude chiller is more compact than a traditional centrifugal chiller of similar capacity – 40 percent smaller and 47 percent lighter in weight. This compact size makes it ideal for retrofit projects or new installations where space or access is limited.
ABOUT McQUAY
McQuay International, a wholly owned subsidiary of Daikin Industries Ltd., delivers engineered, flexible solutions for commercial, industrial and institutional HVAC requirements with reliable products, knowledgeable applications expertise and responsive support. McQuay products and services are provided through a worldwide network of dedicated sales and service offices. For more information or the name of your local McQuay representative, call 800-432-1342 or visit http://www.mcquay.com.
###