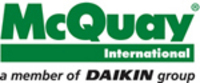 Air handlers are the most requested and yet among the most difficult products to model because of the tremendous variability in their geometry and connector locations
Minneapolis, MN (Vocus) September 10, 2009
McQuay International has expanded its library of Revit® family files for building information modeling (BIM) to include variable-geometry products such as Vision™ indoor and Skyline™ outdoor air handling units. The files are in Autodesk® Revit® MEP 2009 format and are available free from a McQuay sales representative.
"Air handlers are the most requested and yet among the most difficult products to model because of the tremendous variability in their geometry and connector locations," said Don Winter, vice president of marketing, McQuay. "Creating a standalone model for each variation would require engineers, architects and contractors using Revit MEP to wade through thousands of files to identify a model representing the correct size and connector locations for their project. McQuay's solution saves time by allowing users to start with a few base files and easily customize them to arrive at a fully functional model, with defined clearances, for each air handler in their project."
Because the air handler family files require customization, McQuay has developed an instructional video, available free from a McQuay sales representative, to help users fully benefit from their functionality. All other McQuay Revit family files can be downloaded from the McQuay website.
McQuay Vision indoor and Skyline outdoor air handler units are designed on a custom-modular platform and with McQuay's Variable Dimensioning™ feature, along with multiple configurations and component options. This flexibility allows engineers to design the exact air handling system to meet requirements for operating efficiency, indoor air quality, quiet operation and low installed and operating costs.
McQuay International, a division of Daikin Industries, Ltd., delivers engineered, flexible solutions for commercial, industrial and institutional HVAC requirements with reliable products, knowledgeable applications expertise and responsive support. McQuay products and services are provided through a worldwide network of dedicated sales and service offices. For more information or the name of your local McQuay representative, call 800-432-1342, or visit http://www.mcquay.com.
# # #