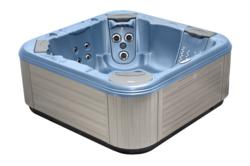 Salt Lake City, UT (PRWEB) July 05, 2012
Bullfrog International, manufacturer of Bullfrog Spas luxury portable hot tubs, recently gave a Model 362 hot tub for auction at the Black and Blue Ball in Salt Lake City, UT. This annual event is a motorcycle-themed charity fundraiser that is hosted by Harley Davidson to benefit the Muscular Dystrophy Association.
The Black and Blue Ball is intentionally different from most other charity events. According to Black and Blue Ball website, "The Ball's motorcycle theme encourages a relaxed and fun evening on the part of its guests dressed in 'black' leather and 'blue' denim. No stuffy tuxedos or fancy cocktail dresses here—just the opportunity for area business and community leaders to expose their alter-egos on the road to a cure for neuromuscular disease."
Attractions at the Black and Blue Ball include things like a Temporary Tattoo Parlor, Boot Shine Booth, commemorative photos with Harleys, a live rock band, and more.
Proceeds raised by the Black and Blue Ball help fund the Muscular Dystrophy Association or MDA. This voluntary health agency brings science and citizens together to research and hopefully cure 43 different neuromuscular diseases. The MDA's stated mission is, in part, "to make life better for people with muscular dystrophy and related muscle diseases by providing representation in matters of public policy and research advancement, nationally and internationally; and facilitating active involvement in these areas by the people it serves."
The Bullfrog Spa donated to the Black and Blue Ball was a Model 362. This 6-person hot tub comes with 3 of Bullfrog's patented JetPaks. JetPaks are removable modular jetted spa seats that provide hydro massage therapy that can be customized specifically to suit each bather's needs.
Bullfrog Spas is happy to continue to support great events like the Black and Blue Ball and great causes like the MDA.
About Bullfrog International
Bullfrog International produces the world's only hot tubs with JetPaks, which are modular jetted spa seats. This technology allows the user to customize, interchange, and upgrade their jetted massages at anytime. JetPaks are backed by six U.S. patents with other U.S. and foreign patents pending. Because of the efficiency advantages of the JetPak System of hot tub plumbing, Bullfrog Spas are more powerful, are virtually leak-proof, and are extremely energy efficient. Bullfrog International distributes, licenses, and retails its products in the United States, Canada, Australia, Asia and Europe. Bullfrog International, LC, is headquartered in the Salt Lake City, Utah, USA metro area.
Bullfrog executives, including CEO, Jerry Pasley, are available for interview.
To learn more about Bullfrog's patented JetPak Technology or to design a custom hot tub online, please visit the Bullfrog Spas website.
For more information on the Black and Blue Ball and the MDA please visit:
http://milwaukeeblack-n-blueball.com/
http://www.mdausa.org/