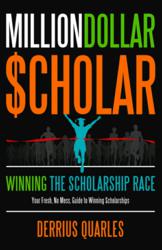 What makes the book unique is that it explains the process of searching, applying for, and winning scholarships from a student perspective.
Atlanta, GA (PRWEB) September 06, 2011
MillionDollar$cholar has provided scholarship workshops and scholarship application consulting to high school students and parents across the United States. In addition to these services, MillionDollar$cholar is now offering its first book publication to help high school and college students reduce educational debt.
With the average cost of undergraduate tuition increasing at approximately 8% per year in the United States, students at both public and private institutions are graduating with more debt than ever before. According to the Institute for College Access and Success, more than two-thirds (67%) of students earning degrees from four-year colleges and universities owed $23,200 or more of debt in 2008. This figure is likely to increase as the overall costs of attending these institutions continues to rise.
There is a clearly a need for students to have access to more resources that will help them decrease the burden of educational costs. MillionDollar$cholar CEO, Derrius Quarles, hopes that Winning The Scholarship Race will be one of those resources. "What makes the book unique is that it explains the process of searching, applying for, and winning scholarships from a student perspective. It was not too long ago that I did not know how I would pay for college–in 2013, I will graduate debt free. The methods presented in the book illustrate how this is possible," said Derrius Quarles. Much of the information in the book takes students through a step-by-step process of what will make them more competitive for scholarship dollars, but don't worry; there is enough humor in between to keep students focused.
September 6th is a symbolic day for the release of MillionDollar$cholar: Winning The Scholarship Race as this will be the first day of school for many high school and college students across the nation, including those students attending Chicago Public Schools. MillionDollar$cholar believes this is just the right time for high school students to start thinking about how they will fund the costs of college and for college students to find ways to reduce their need for loans. The book will be debuted in Atlanta at the Morehouse College (the college attended by Derrius Quarles) campus bookstore September 6th and 7th. It is also available online at the MillionDollar$cholar bookstore.
Students, teachers, administrators etc interested in learning more about MillionDollar$cholar and Winning The Scholarship Race can visit http://www.milliondollarscholar.com or catch up with Derrius Quarles at the 2011 National Association for College Admission Counseling (NACAC) Conference in New Orleans, LA where he will be a panelist presenting various strategies to help students win scholarships.
###