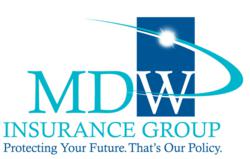 "Recognition by the South Florida Business Journal and placement among other well-respected and established businesses in our area further strengthens the company's resolve to become the premier independently owned insurance agency in the area"
Coral Gables, Florida (PRWEB) June 04, 2013
MDW Insurance Group, headquartered in Coral Gables, ranked number 15 on South Florida Business Journal's 2012 list of the Top Insurance Brokers in South Florida. In its annual book of lists of diverse industries, South Florida Business Journal ranked South Florida insurance agents and brokers based on premium volume generated in 2012.
Founded in 1979, MDW Insurance Group is a full-service insurance agency offering innovative and customized insurance solutions for business owners and their employees including business owner policies, workers' compensation, marine, property and casualty, group health benefits and life insurance.
"Recognition by the South Florida Business Journal and placement among other well-respected and established businesses in our area further strengthens the company's resolve to become the premier independently owned insurance agency in the area" said Jeff Weiner, CEO of MDW Insurance Group. "We aim to be on the list for years to come."
MDW Insurance Group is uniquely positioned to be large enough to offer its clients the full spectrum of diverse insurance and allied services that they need, but small enough to deliver these services with unparalleled professionalism, industry expertise and personal service. The agency's focus is primarily on small and medium sized businesses, not-for-profits and high net worth individuals. MDW currently works with more than 100 national and international insurance carriers to design customized and cost effective insurance solutions for its clients.
"We have experienced continued growth in all lines of our insurance business as the company has expanded its foot print and opened new offices in Broward and Palm Beach to better serve the tri-county area" said Ivor Bamberger, President of MDW Insurance. "It is very gratifying to be ranked amongst the top insurance firms in South Florida and is validation of our growth strategy, dedication to excellent customer service and experienced team of industry professionals."
"The current insurance landscape has become increasingly difficult for clients to navigate because of rising prices, regulatory changes and the recent health care reform initiatives, and our clients depend on our expertise to ensure they are properly informed and protected. Our insurance agency is well positioned for growth by providing additional services to current clients, while attracting new clients with the value we can bring to their businesses" says Bamberger. "To meet the expected increase in demand, we will continue to expand our offerings, and invest in people and systems to support our growth and our clients' needs."
About MDW:
With offices in Coral Gables, Plantation and Boca Raton, Florida, MDW Insurance Group is a full service insurance agency providing insurance and risk management services to business, public entity, non-profit, individual, trade and professional association clients nationwide.
For more information, visit MDW at http://www.mdwinsurance.com
Or on Facebook at http://www.facebook.com/MDWins