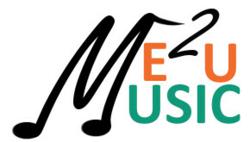 This differs from anything available on the market today in the way the music is sent direct to the recipient, and begins playing immediately, with no need for them to be re-directed to a website. This makes it much more instantaneous as a gift.
(PRWEB) November 27, 2012
Me2Umusic announced today that it is releasing a new online music store and mobile app. The app uses the latest online media technologies to offer users the opportunity to quickly and easily gift a song, playlist or album to their friends and family.
The beauty of Me2UMusic is that it is easy to choose and pay for the music and even easier to receive it. So now you can send a musical message to the most inexperienced technophobe knowing they will not only receive it, but they will also hear your gift!
Me2umusic enables the user to buy and send music to the recipient's smart-phone (including Android, iPhone, Blackberry and Windows platforms), tablet or computer with an instant play feature! The app offers all the advantages of an online music store with the unique feature of direct delivery to a recipient either on their smart-phone, tablet or computer. No other online store offers this, nor do they offer the facility to make a playlist to buy and send.
With a catalogue of over 22million tracks at great prices, the Me2UMusic app will have a look and feel similar to those of other leading online music stores so users will find it very easy to use and comfortable to navigate.
Chris Osborne-Shaw, Director, Me2UMusic, said: "The way this differs from anything available on the market today is the way the music is sent direct to the recipient, and begins playing immediately, with no need for them to be re-directed to a website or redeem a token etc. This makes it much more instantaneous as a gift".
The app has been built using 7digital's application programming interface (API), which provides access to catalogue of millions of tracks from major and independent record labels.
"Our API is designed to make it easy for developers to create innovative music apps, and the Me2UMusic app is a great example. We have a catalogue of millions of high quality tracks from all the major music labels, so users should be able to find the perfect track to send as a gift" comments Ben Drury, CEO of 7digital. "By making it so simple for recipients to access and listen to their gift, the Me2UMusic app allows people to hear their gifted track through any connected device".
The buyer can write a message and provide the recipient's mobile number or email address, after which they will be able to check out with either credit or debit cards, direct debit or PayPal. The recipient will then receive a notification in the form of an SMS message or email and once they click on the icon the track, album or playlist will start playing and they will be given the opportunity to save it to their device's music library, as per their device options. For example if using a smart-phone, they could choose to set it as a ring-tone.
William Shakespeare wrote "if music be the food of love..." and so throughout history, and across the world, music has been used to resonate with a person's feelings. From ancient Rome, to the modern day, people have used music to convey their emotions, whether its love, hate, joy, or sorrow. Nearly every couple have 'their tune', and how many love-struck Romeos having been spurned by their Juliet have wanted to say 'I want you back'. Now, through the ME2UMUSIC app they can instantly send their musical message.
If you want to say 'I love you', 'sorry', 'goodbye' and all the other traditional greetings such as Happy Birthday or Merry Christmas, nothing beats the medium of music. Today you can send flowers, chocolate, wine and many other gifts via an app. It is difficult to believe but until ME2UMUSIC starts on December 1st 2012, there is no easy way to send music legally.
Website URL: http://www.me2umusic.com
App Details:
App Name: M2
Author: Me2umusic LLC
Launch Date: December 1 2012
Cost: Free
Category: Music, Gifts
App type: HTML5 Web app,
Platforms: Android, iPhone, Blackberry, Windows
Publisher:
Name: Me2umusic LLC
Address: 616 Corporate Way, Suite 2 #4000, Valley Cottage, NY 10989
Tele number: USA : 347 414 9352 & UK: +44 78770 93790
Email address: chris(at)me2umusic(dot)com
Website URL: http://www.me2umusic.com
**digital app icon and screen shots available**
**sneak peek available upon request**
# # #
Notes to Editors
About 7digital
7digital is the world's leading digital music and content technology platform, and provides open access to the broadest catalogue of fully licensed, high quality digital music. The company powers comprehensive digital music services for consumers, developers and a wide range of partners around the world.
The 7digital API (Application Programming Interface) allows developers and partners to license 7digital's technology platform and music catalogue to create new music websites, applications and devices, or to integrate music into existing services. The 7digital API removes the complexity of developing digital music services by providing partners and developers with an extensive catalogue that is fully licensed by major labels, independent labels and royalty collection societies. The API enables a range of digital music services to be developed; from a la carte downloads to radio streaming.
7digital has provided digital music services to hundreds of international partners, including record companies, artists, FMCG brands, retailers, consumer electronics companies, fashion brands, advertising agencies and many other organisations. Using 7digital's technology platform, partners can harness the power of digital music to engage with their customers.
7digital's global partner network includes Samsung, RIM, Toshiba, HP, Acer, HTC, T-Mobile US, Ubuntu, Shazam, Last.fm, Winamp, Songbird, HMV, Waterstone's, Universal Music, EMI, Warner Music and Sony.
Established in 2004, 7digital is headquartered in London, at the heart of the city's Silicon Roundabout, and operates offices in Los Angeles and Luxembourg.
For more information visit about.7digital.com. To download 7digital images and the press kit visit http://about.7digital.com/press/press-kit/