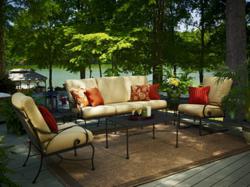 Northbrook, IL (PRWEB) May 02, 2011
PatioFurnitureBuy.com of Net Retailers, Inc announces the launch of entire line of Meadowcraft® wrought iron furniture collections offered to its customers across United States. Addition of Meadowcraft follows recent partnerships that PatioFurnitureBuy.com did with Tropitone, Telescope Casual, Windham Castings and North Cape International earlier this year. This demonstrates the commitment of PatioFurnitureBuy.com to keep its reputation in selling high quality American patio furniture products.
Meadowcraft's outstanding reputation in superior quality and style makes it a perfect fit to the product range offered at PatioFurniureBuy.com. Customers can review entire Meadowcraft collection by visiting Meadowcraft designated brand page at Meadowcraft
Ensuring varieties to quench each individual's taste is what Meadowcraft specializes in.
Some of the top collections of Meadowcraft at PatioFurnitureBuy.com include Alexandria, Athens, Cahaba and Chateau. There is a wide range of options for customers to choose from.
Whether someone is looking for residential or commercial outdoor furniture, Meadowcraft Furniture stands out in the crowd. Restaurants, country clubs, golf courses, hotels, healthcare & retirement facilities and home outdoors can be decorated well with Meadowcraft's collection of patio furniture.
To explore complete collection of Meadowcraft at PatioFurnitureBuy.com, please visit: http://www.patiofurniturebuy.com/meadowcraft-patio-furniture/
About Meadowcraft
Meadowcraft, Inc. engages in the design, manufacture and distribution of a variety of wrought iron consumer products including outdoor and indoor furniture and accessories, outdoor cushions and umbrellas, and garden products. Meadowcraft, Inc. was formerly known as Sam Blount Company, Inc. and changed its name to Meadowcraft, Inc. in June 1994. The company was founded in 1985 and is based in Birmingham, Alabama.
About PatioFurnitureBuy.com
PatioFurnitureBuy.com is an online retailer of top quality patio furniture from major manufacturers offering fully customized patio furniture with hundreds of options, distinctive product representation, brand awareness, and dedicated customer service. The leading patio furniture retailer also offers patio furniture accessories and individual items in addition to patio furniture sets. For more details on PatioFurnitureBuy.com, please visit: http://www.PatioFurnitureBuy.com
###