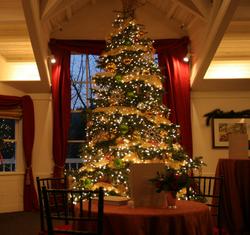 Napa Valley, CA (PRWEB) October 13, 2009
This December, celebrate the spirit of the holidays with The Twelve Days of Christmas™ at Meadowood Napa Valley, benefitting Share Our Strength®. Beginning December 4 through 19, 2009, these exclusive holiday feasts will once again pair world-renowned chefs from across the country with twelve of Napa Valley's preeminent vintners. While creating twelve unique evenings to delight guests, all join forces in support of Share Our Strength's important work: ending childhood hunger in America by 2015.
Meadowood has assembled top chefs from across the country and esteemed vintners from the Napa Valley. Headlined by culinary host Chef Christopher Kostow, Meadowood Director of Wine & Cuisine Patrick Davila, Sommelier Rom Toulon and Restaurant Manager Nathaniel Dorn will also serve as hosts and organizers for the chefs and vintners.
The 2009 Twelve Days of Christmas Schedule
Sparkling Wine Reception - 6 to7:00 p.m.; Dinner - 7 to 10:00 p.m.
Day 1 ~ December 4
Mark Sullivan, Spruce, San Francisco
Chuck & Ann McMinn, Vineyard 29
Day 2 ~ December 5
Marcus Samuelsson, Aquavit, New York
Philip & Carol Norfleet, The Napa Valley Reserve
Day 3 ~ December 8
Josiah Citrin, Melisse, Santa Monica, Calif.
Dariouosh Khaledi, Darioush
Day 4 ~ December 9
Vinny Dotolo and Jon Shook, Animal, Los Angeles
Hugh Davies, Schramsberg Vineyards and J. Davies Vineyards
Day 5 ~ December 10
Gabriel Rucker (Le Pigeon), Jason Barwikowski (Clyde Common)
and Naomi Pomeroy, (Beast) in Portland
Susan Boswell, Chateau Boswell and Joshua & Jacquelynn Peeples, Jacquelynn Wines
Day 6 ~ December 11
Michael Cimarusti, Providence, Los Angeles
Michael Polenske, Blackbird Vineyards
Day 7~ December 12
Nancy Oakes and Ravi Kapur, Boulevard, San Francisco
Kelly & Paul Fleming, Kelly Fleming Wines
Day 8 ~ December 15
Paul Liebrandt, Corton, New York
John Conover, PlumpJack and CADE Wineries
Day 9 ~ December 16
Laurent Gras, L20, Chicago
Bob & Stacy Bressler, Bressler Vineyards and Mia Klein, Selene Wines
Day 10: December 17
Cat Cora, Bon Appetit Magazine
The Stephens Family, HUNNICUTT and D.R. Stephens Estate
Day 11~ December 18
Nancy Silverton and Matt Molina, Pizzeria Mozza and Osteria Mozza, Los Angeles
Lindy, Mary and Beth Novak, Spottswoode Estate Vineyard & Winery
Day 12: December 19
Christopher Kostow, The Restaurant at Meadowood
Bill and Deborah Harlan, Harlan Estate
Pricing for The Twelve Days of Christmas™ at Meadowood Napa Valley begins at $950 per couple per night and includes one night's lodging at Meadowood and dinner seating for two. Share Our Strength receives a percentage of the dinner seating revenue throughout the event. Meadowood will also make a $2,000 donation to Share Our Strength in the name of each of the twelve chefs who have generously donated their time and talent.
In addition to Food Network as the official media partner, Meadowood also welcomes Riedel Crystal as the Stemware Partner and wine country destination management company Viviani Inc., as its Travel Partner for this signature holiday occasion.
About Share Our Strength
Share Our Strength® is the leading national organization working to make sure no child in America grows up hungry. Share Our Strength helps close gaps between nutritious food programs and families in need by finding ways to feed the hungry in local communities, funding the most effective anti-hunger organizations in each state, and making the most of state, federal, and local resources. Since its inception 25 years ago, Share Our Strength has raised more than $245 million and supported more than 1,000 effective anti-hunger organizations worldwide.
Viviani, Inc. - Travel Partner
Since 1980, Linda Viviani has been the visionary leader and chief executive officer for Viviani, Inc., the oldest and largest destination management company in Northern California's wine regions. Viviani, Inc. has been recognized by the Today Show, Food & Wine Magazine, The Wall Street Journal, The New York Times, Neiman Marcus Entrée Magazine, Virtuoso Life and countless local publications for their exclusive offerings and creative, customized itineraries.
Riedel - Stemware Partner
For more than 250 years, Riedel Crystal has been producing fine glass in the heart of Europe. A family company with a long history of tradition and innovation, Riedel is committed to designing varietal-specific glasses and decanters that act as the loud-speaker for wines around the world. As the eleventh generation, Maximilian Riedel carries on the family legacy by continuing to design new and innovative glassware and decanters to enhance wine enjoyment.
###