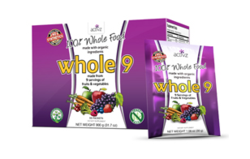 A new meal replacement shake made with organic ingredients is now available from True Healthy Products, an all natural nutrition company, to quickly provide a full day's nutrition of fruits and vegetables.
(PRWEB) January 10, 2012
True Healthy Products, a natural nutritional and wellness company from Florida is now offering a new all natural dietary supplement that provides all of the fruit and vegetable servings requirements for a whole day in a convenient meal replacement shake. The new product is called "Whole 9" and is blueberry flavored.
The meal replacement shake, Whole 9, can be found at the company's website:
http://www.truehealthyproducts.com/products/dietary/meal-replacement-shakes-whole-9
According to the manufacturer, Food For Health International, "Instead of synthetic, chemical, or fractionated vitamins usually found in supplements, Whole 9 contains organic, fresh fruits and vegetables that are picked at the peak of nutrient values, and then carefully handled during each stage of production to maintain nutritional integrity. Even the delicate, life-sustaining micronutrients, trace minerals, and phytochemicals are still intact, including their physiological functions or providing optimal digestion, absorption, and utilization of all vitamins and minerals, as well as aid in the defense against serious disease. In addition, each shake is enriched with proprietary blends of digestive enzymes, 11 strains of probiotics, essential omega fatty acids, and energy-boosting proteolytic enzymes."
Combined together they work beyond their individual sum and help promote:
Improved Heart Health
Prolonged Longevity and Anti-Aging
Fortified Bones and Muscles
Increased Energy
Strengthened Immune System
Optimal Nutrient Absorption
Enhanced Digestion and Intestinal Health
For a video from the company about all natural supplements versus synthetic supplements:
http://www.truehealthyproducts.com/products/dietary/9-a-day-plus
The supplement may be helpful for people that are unable to eat a balanced diet and are lacking important nutrients from necessary fruits and vegetables. It can be mixed with water, juice, milk or added to yogurt and has a distinctive berry flavor. It is available online, by phone or in person from True Healthy Products, and is one of several new products for better health and nutrition that the company has added to their line for 2012.
For more information about this meal replacement shake, Whole 9, or other truly good for you products offered by True Healthy Products, visit the company's website online at http://www.truehealthyproducts.com.
True Healthy Products
2460 N. Courtenay Pkway, #210
Merritt Island, FL 32953
888-400-2920
http://www.truehealthyproducts.com
###