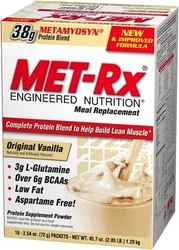 MET-Rx® developed the standard for meal replacement products and virtually created a new supplement category overnight.
Ronkonkoma, NY (PRWEB) October 27, 2008
MET-Rx®, the leader in sports nutrition, reformulates their flagship product, MET-Rx® Original Meal Replacement high protein powder. This new and improved exclusive formula is now free of hydrogenated oils, aspartame and has no gluten or added sugar.
Introduced in 1991, MET-Rx® Original Meal Replacement revolutionized meal replacement powders with the METAMYOSYN® Blend. According to Brand Manager Dana Mitchell, "MET-Rx® developed the standard for meal replacement products and virtually created a new supplement category overnight." Today, it is the foundational protein supplement for many fitness-minded individuals.
The secret is the source of the protein which is an exclusive blend called METAMYOSYN®. Originally developed by a physician based on metabolic research, METAMYOSYN® protein combines Milk Protein with fast-digesting whey protein and slow-acting casein. The unique combination of proteins in METAMYOSYN® offers a sustained release of amino acids for up to 7 hours** and provides your body with a highly bio-available fuel that supports muscle and strength.* The complete protein blend helps build lean muscle with 25 essential vitamins and minerals, and 110% daily value of calcium to support all of the body's nutritional needs.*
MET-Rx® decided to re-invent their number one selling meal replacement in an effort to clean up and enhance the formula, as well as offer a more nutritious product. This is something consumers have come to expect from a brand like MET-Rx®, and although they've removed the bad fat, it continues to present the same great taste and nutrition.
Consumer-friendly packaging including larger callouts on the product help to reflect the new and improved changes. The new "Original" Meal Replacement is now available at GNC, The Vitamin Shoppe, all fine gyms, health food stores and wherever sports nutrition products are sold.
Available in Original Vanilla, Extreme Chocolate and Berry Blast flavors.
MET-Rx® revolutionized the sports nutrition industry with this flagship product and today offers a complete line of high quality protein products. Visit http://www.metrx.com for more information.
*Results may vary. Use in conjunction with an intense daily exercise program and a balanced diet including an adequate caloric intake.
**Approximate value based on individual proteins within product, actual value for METAMYOSYN may be different.
# # #