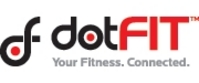 We had dotBAR samples at iHRSA, one of the largest health and fitness industry tradeshows, and they were a huge hit
Westlake Village, Calif. (Vocus) July 27, 2009 –
dotFIT Worldwide, the developers of dotFIT.com—a world leader in personalized holistic health and fitness solutions for clubs and individuals—announced the release of three new meal replacement bars.
The scrumptious new dotBAR flavors are Chocolate Peanut Butter Crunch, Mocha, and Cookie Dough. These bars feature the ideal blend of carbohydrates and protein for athletes, are high-protein, a good source of calcium and only 190 calories.
"We had dotBAR samples at iHRSA, one of the largest health and fitness industry tradeshows, and they were a huge hit," said Neal Spruce, chief executive officer of dotFIT Worldwide. "Numerous studies show that bars like those in the nutrition dotFIT line are critical both for pre/post-exercise for recovery, and during weight loss for calorie control and sense of being full."
dotFIT uses only quality ingredients that undergo rigorous testing, supported by scientific fact, not marketing hype. Through our exclusive delivery system, our products provide your body with the right nutrients at the right time for maximum benefit. All dotFIT supplements are manufactured with uncompromising standards in compliance with Good Manufacturing Practices in an FDA registered facility.* And, our great tasting, high protein, healthy baked food products are formulated with quality ingredients to provide your body with balanced nutrition, energy and flavors that can only be described as…crazilicious.
dotBARs can be purchased online at http://www.dotfit.com/nutrition-dotFIT-cid-541.html, or in any of the hundreds of health and fitness facilities that carry dotFIT products across the US.
About dotFIT Worldwide:
Founded in 2008 by a seasoned team of leading fitness industry visionaries, dotFIT Worldwide is rapidly becoming the leader in personalized holistic health and fitness solutions. The company's unique online platform, dotFIT.com provides the proven essentials needed for people to eat, live and feel better. Driven by dotFIT's custom Fitness Intelligence Technology, the platform provides a wealth of customized online digital assts, real-time monitoring and progress capabilities, exercise and nutrition programs, nutrition products and access to professional trainers certified by the National Academy of Sports Medicine.
###