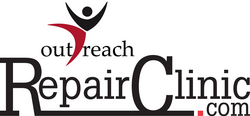 Canton, MI (Vocus) April 21, 2009
Recently, RepairClinic.com sponsored a corporate table to benefit Ypsilanti, Michigan Meals on Wheels at the annual "Spring Fling" Benefit Dinner at the Ann Arbor Marriott, Ypsilanti. For the past 12 years, the nonprofit organization has held the dinner to raise money for their program which delivers meals to needy seniors and disabled individuals in the community.
Local "celebrities", including faculty members from Eastern Michigan University along with community and government officials, posed as servers. Patrons happily contributed generous tips in return for the excellent service provided at the hands of local VIP's. The event was well-attended by many in the local area, including a group of Repairclinic.com employees, representing the recently established RepairClinic.com Outreach program.
Outreach is a company-wide effort established to encourage volunteerism and community involvement among RepairClinic employees throughout southeast Michigan - where the company headquarters is located -- a region where the economy has presented many challenges to families and charitable organizations. The internal Outreach program is made up of RepairClinic.com employee volunteers who combine their hard work with company resources to do their part in the community.
This charitable initiative is very near and dear to the hearts of those on the RepairClinic.com management team. Several on the team have served on the boards of local charities and believe it is important to reach out to the needy in the community. As a result, the company's Outreach program has supported several other local charities, such as: Hope Clinic, Make a Wish Foundation, Canton. Make a Difference Day, Earth Day Spring Cleanup, and the Belleville Eagles Charity.
Other upcoming events where Outreach participants will be involved include: Canton Christmas in Action Program in April - a program where volunteers assist income-qualified seniors and individuals with disabilities with home cleanup and/or fix-up projects; The American Cancer Society Relay for Life in Canton, MI at Heritage Park, May 16-17, a 24- hour event that includes a continuous walk to raise money for cancer research, a festival setup, and ceremonies to honor cancer survivors and those lost to the disease.
Outreach has also been involved in several projects with Hope Clinic in Ypsilanti, MI, where RepairClinic.com's CEO, Larry Beach, is a board member. Hope Clinic is an organization that provides many services to local families including: free medical care, free dental care, and hot meals and groceries for individuals and their families.
The Outreach program has made a special effort to provide funding to smaller projects at local schools in addition to family-focused projects, such as providing money, supplies, and holiday gifts to local food banks.
About RepairClinic.com
Now celebrating its tenth anniversary, RepairClinic.com® was founded in Canton, MI in 1999 and is the most comprehensive online resource for home appliance parts, do-it-yourself repair help and information. The site features more than 80 appliance brands--including Kenmore, Whirlpool, Maytag, GE, Frigidaire, and LG--across 16 appliance types (e.g., washers, dryers, refrigerators, stoves, ovens, and dishwashers). Do-it-yourselfers use the intuitive PartDetective®, find the part they need or the leading-edge service, RepairGuru®, for customized, free repair help online. Appliance parts are stocked in a 72,000 sq. ft. facility and shipped the same business day. Visit RepairClinic.com for more information.
###