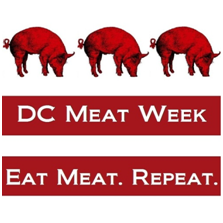 We look forward to welcoming the Meat Week community into our home as they dine on our award winning barbecue at [Pork Barrel BBQ]'s Community Table." ~Heath Hall
Washington, DC (PRWEB) January 26, 2012
Pork Barrel BBQ, the nation's fastest growing barbecue sauce company, founded by DC's own barbecue entrepreneurs and championship pitmasters, Heath Hall and Brett Thompson, will offer customers a first taste of their newest BBQ sauce during their Meat Week 2012 celebration at the Pork Barrel BBQ Restaurant in the Del Ray neighborhood of Alexandria, Virginia.
Pork Barrel BBQ is hosting Meat Week participants at its restaurant, which Hall and Thompson opened with veteran restaurateurs "Mango" Mike Anderson and Bill Blackburn, on Tuesday, January 31st between 7:00 p.m. and 9:30 p.m. at 2312 Mount Vernon Avenue in Alexandria, Virginia. Meat Week'ers will be among the first in the nation to taste the latest creation in Pork Barrel BBQ's lineup of national award winning barbecue sauces – Pork Barrel BBQ Carolina Vinegar BBQ Sauce.
Meat lovers and barbecue enthusiasts will be pleased with Pork Barrel BBQ's special Meat Week Sampler Plate that includes ¼ pound of brisket, ¼ pound of pulled pork, ¼ chicken, 3 ribs, 1 Texas brisket sausage link and your choice of 2 sides for $20.12.
"We're extremely excited to be hosting our third Meet Week celebration and the first at our recently opened flagship Pork Barrel BBQ Restaurant," said Hall, President of Pork Barrel BBQ. "Barbecue is America's cuisine and is just as much about the community that gathers to enjoy each others company as it is about eating the slow smoked meaty goodness that comes out of the smoker. We look forward to welcoming the Meat Week community into our home as they dine on our award winning barbecue at our restaurant's Community Table."
This year marks the eighth anniversary of the international Meat Week celebration. Organizers of DC's Meat Week, Mike Bober and Jenelle Dennis, are extending the celebration, festivities to an eight days this year in DC.
"We are so excited to be a part of Pork Barrel BBQ's DC debut of its Carolina Vinegar BBQ Sauce in its brand new digs," said Dennis, Captain of DC Meat Week.
"Pork barrel BBQ has been a part of DC Meat Week since the beginning, and we anticipate another great showing this year," said Bober, DC Meat Week Founder. "They've settled into their own space and their smoker is nice and seasoned – we're looking forward to championship-quality 'cue."
Read more about Meat Week 2012 here and the official DC Meat Week website at http://www.meatweek.com/chapters/washingtondc.
For more information about Pork Barrel BBQ, visit http://www.porkbarrelbbq.com and read about their latest updates and adventures on Facebook, Twitter (@porkbarrelbbq) and the company's blog.
About Pork Barrel BBQ
Pork Barrel BBQ was founded in December 2008 during the peak of the economic crisis to prove that a company not owned or operated by the federal government could succeed, and that if you had a good idea, it was still possible to grab a piece of the American Dream. Pork Barrel BBQ founders, Heath Hall and Brett Thompson, ran the company out of the basement of their houses, selling their award winning BBQ products one bottle at a time. In less than one year, their Pork Barrel BBQ Sauces and Spice Rub were carried in over 1,000 stores in 40 states. Throughout their journey, they have stayed true to their mission – to unite the nation through the great tradition of BBQ, and bring bipartisan flavor to your next meal. The Pork Barrel BBQ Competition BBQ Team entered its first contest, The Safeway National Capital Barbecue Battle, in June 2009, and walked away with two trophies – Second Place in the "Nations Best BBQ Sauce Contest" and Fourth Place for their pulled pork in the Memphis In May portion of the contest. Since then, the team has won multiple awards, including the 2011 Perdue National Chicken Championship, the Safeway National Capital Barbecue Battle in 2011, the "Chinet People's Choice" award for best BBQ sauce in 2010 and other notable Memphis in May and Kansas City Barbecue Society BBQ competition accolades as well as having their Pork Barrel BBQ Original BBQ Sauce named Best Sauce in America and one of "The 125 Best Foods for Men" by Men's Health Magazine in November 2010. For more information, visit http://www.PorkBarrelBBQ.com or follow Pork Barrel BBQ on Facebook and Twitter (@porkbarrelbbq).
###