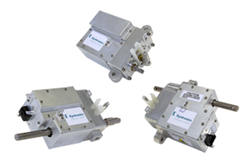 We were able to use our actuator to reduce the weight and component count of a knee therapy machine by 90%, which made the machine more marketable...
Cleveland, Ohio (PRWEB) December 15, 2016
Kyntronics' new Electromechanical Linear and Rotary Actuators are precision motion control devices for force requirements up to 1,000 lbf (4500N) for linear applications or 2,400 in-lbs (270Nm) for rotary applications. Setup is simple with fully integrated electronics and communications. The actuators seamlessly drop in to existing applications, or Kyntronics' engineers will customize an actuator system for the customer's application.
Kyntronics electro-mechanical actuators (EMAs) are well suited for applications such as medical equipment, aerospace, robotics and factory automation where it is necessary to coordinate multiple axes of motion or multiple actuators together in an efficient manner.
According to company president Wayne Foley, "As an example of how Kyntronics works with customers to solve their applications, we were able to use our actuator to reduce the weight and component count of a knee therapy machine by 90%, which made the machine more marketable for patient home use for the medical OEM. Additionally, we provided application-specific custom software for the manufacturer."
Kyntronics has also used both their linear and rotary actuators in premium class airline seats to reduce weight and noise, critical requirements for the aviation OEM. Kyntronics also provided application-specific software to coordinate the motion of various seat elements.
Kyntronics EMAs feature a power-line communications platform that utilizes patented C-bus technology. As it only requires two wires to support power and communications, it keeps costs and weight down.
Complete technical specifications and a video showing the products in use are available at http://www.kyntronics.com.
About Kyntronics
Kyntronics motion control experts offer extensive experience in the medical, aerospace and industrial markets, and is Certified to ISO 9001:2008 and AS9100:2009C standards. The company employs the latest technologies and engineered actuation systems that best fit the needs of OEM and end-user customers.
Kyntronics provides self-contained, drop-in replacements, custom engineered actuation products and full systems. Kyntronics was established in 2010, and the company is dedicated to providing the best actuation solutions for their customers' products and processes.
The company's experienced staff includes engineers specializing in mechanical, electrical/controls, hydraulics and software. Kyntronics applies a Continuous Improvement Culture, developing ways to enhance products and services so that customers can be more competitive, efficient and profitable.
Kyntronics engineers are ready to help at http://www.kyntronics.com or 440.220.5990.