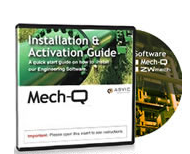 We are very happy to make this change to allow users to see the many benefits of our Mech-Q service agreement.
Bend, OR (PRWEB) August 30, 2012
CADavenue.com announced today that their engineering software will now include a 12-month maintenance contract when you purchase any new Mech-Q module or suite.
Mech-Q is engineering software developed by ASVIC.com for AutoCAD®, AutoCAD® LT and IntelliCAD drawing platforms. CADavenue.com is the US and Canadian outlet for Mech-Q.
The software is a CAD drafting add-on for engineers which includes over 100 utilities to create Piping, Ducting, Mechanical or Structural elements within their CAD application. Mech-Q also includes various pulldowns and tool bars that integrate into the programs toolbar.
The complimentary 12 month maintenance program is included with every new license purchased on or after September 1st, 2012.
Prior to this announcement, Mech-Q maintenance was fee based, with upgrade and support options starting at $199 per year.
With the ongoing updates and new pricing structures, ASVIC was happy to release the news today to its new customers.
CADavenue President Victor Abela remarks "we are very happy to make this change to allow users to see the many benefits of our service agreement. We offer premium support worldwide either by phone, email and even remote access if needed."
The maintenance program (called SMC for Service Maintenance Contract) allows Mech-Q users to obtain priority technical support, download latest releases or switch to different Mech-Q CAD versions altogether.
CADavenue's Website : http://www.cadavenue.com
Phone: 888-271-7121
Email:sales(at)cadavenue(dot)com
Headquartered in Bend, Oregon, CADavenue is subsidiary of ASVIC.com. ASVIC is a developer and distributor of CAD-based software products for Engineers and Architects and is located in Queensland, Australia.