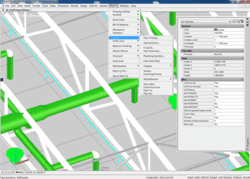 Bend, OR (PRWEB) July 31, 2012
AViCAD.com is offering a free upgrade to AViCAD 2013 for purchases made after July 20th 2012. 
Just like AutoCAD, AViCAD contains both 2D and 3D tools, But AViCAD contains a Full Suite of Engineering Tools (focused on Plant & Piping) plus a built-in Architectural Routine is included.
Victor Abela explains "the new AViCAD 2013 release is major update and includes some really exciting new features. The free upgrade will allow users to get started today using the 2011 version and then update to 2013 at no additional cost when it hits the shelves."
AViCAD also will upgrade users who purchase their CAD Software after July 20th 2012. A free upgrade will be available when AViCAD 2013 arrives.
The company also announced that a new release of AViCAD is expected to arrive late September 2012 which include many new features.
AViCAD 2013 Preview (Major upgrade to the current version)

New GUI style
New Layer Manager
PC3 print support
Print Style Manager
New Print Interface
Dimension Style Manager
Spline Edit
Helix command
PDF, DWF and DGN Underlay
STL and DAE export
DGN Import
Improved Purge command
Multi-grip editing
In addition to the AViCAD upgrade the CAD Program also following software benefits:
Full CAD Program with Rendering Engine
Built-in 2D/ 3D Engineering Tools
2D Wall, Window and Door Architectural Tools
For more information, visit http://www.avicad.com or call 888-271-7121.
About AViCAD
AViCAD is owned by Cadavenue a division of ASVIC Software Inc. Their clients are involved in hydro power, food processing, aquaculture, petrochemical, biotechnology, treatment plants, heavy industry, marine, mining, military, pharmaceutical, pulp & paper, energy generation, snow making plants and various other related markets.
For more information about the company, latest news, and purchasing information, visit avicad.com on the Web at http://www.avicad.com/about.
Please contact Erik Zetterberg, 61149 South Hwy 97, #109 Bend, OR 97702 USA, Tel: (888) 271-7121 sales(at)avicad(dot)com, with questions about this press release.