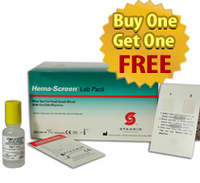 More than one million new cases of colorectal cancer were diagnosed worldwide in 2008, and more than 600,000 deaths were caused by it.
Brooklyn, NY (PRWEB) April 14, 2011
MedexSupply, a Brooklyn-based distributor of medical supplies, surgical equipment and healthcare supplies, is working to promote awareness of colorectal cancer, the third most commonly diagnosed cancer and second leading cause of cancer-related deaths in the United States.
More than one million new cases of colorectal cancer were diagnosed worldwide in 2008, and more than 600,000 deaths were caused by it. Also known as bowel cancer, it can affect the colon, rectum and appendix. Though most often diagnosed in people over the age of 60, it is occasionally found in those younger than 50, particularly if a family history is present. People with inflammatory bowel diseases such as ulcerative colitis and Crohn's Disease are especially vulnerable to colorectal cancer, and it's also believed that smoking, significant alcohol consumption and a diet heavy in red meat may be risk factors. It is most commonly diagnosed in African-Americans, and most often seen in Western countries, possibly due to Western diets relying largely on meats and processed foods and not enough on fiber-rich foods and fresh fruits and vegetables.
Early detection is critical for successful treatment and remission of colorectal cancer. Patients who are diagnosed at stage 1 have a 90% chance of survival five years after treatment, while at stage 4 that chance drops to less than 7%, with the cancer considered incurable. In its earliest stages, colorectal cancer often exhibits no symptoms. However, some symptoms include changes in bowel movements, such as color or consistency, abdominal pain and bloating, fatigue and unexplained weight loss. Colorectal cancer symptoms often resemble those of less serious medical conditions, so it's important to see a doctor if symptoms persist for more than a couple of weeks. It's also important for those who have are higher risk of developing colorectal cancer to get tested regularly.
Some tests used to screen for colorectal cancer include sigmoidoscopy, in which a lighted probe is inserted into the rectum and colon, digital rectal examination and a double contrast barium enema, which allows the colon to be viewed on x-ray film. A less invasive procedure is a fecal occult blood test, which only requires a stool sample that may be collected by the patient at home beforehand.
To assist in promotion of early detection of colorectal cancer, MedexSupply is offering the Stanbio Hema-Screen®, Colorectal Cancer Screening Lab Test at a buy one, get one free discount, with 200 tests for just $47. The Hema-Screen Lab Test is used to perform fecal occult blood tests, offering test results in just two minutes. It can be stored at room temperature with a shelf life of 24 months, which is twice as long as the shelf life of comparable test kits.
###