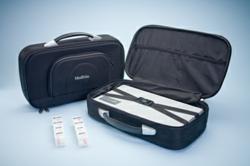 San Francisco, California (PRWEB) June 26, 2013
New demographic studies show that almost 87 million Americans, or one in four, will be 65 or older by 2050. This population segment, known as the baby boomer generation, is one of the largest age demographic groups in the annals of history. This generation is also expected to live longer and be more active than generations before them.
This means that over the course of the next decade, leading health treatments and procedures must adapt technically and logistically to suit the medical needs of baby boomers with chronic conditions such as diabetes, cardiovascular disease, and arthritis. One of the first things to address is medication.
Earlier this year, MedFolio introduced the wireless version of their award winning Electronic Pillbox. A technology solution such as the MedFolio Pillbox can play a vital role in helping to serve the medication dosage needs of a shifting population and influx of patients.
The new wireless MedFolio device syncs medication adherence reports to a secure online cloud server which allows caregivers, family members, and healthcare professionals—upon being granted access—to monitor whether medications are being taken as prescribed or to detect any problematic patterns.
For patients with active lifestyles, MedFolio's Wireless Electronic Pillbox can email and text medication reminders to patients who often don't take time for their pills and other medication. And for stay-at-home patients, there is a unique audio and visual (LED) system to alert the patient to their next dosage of medications. Patients will find the MedFolio device to be as user-friendly as it is ingenious.
Accurate reporting of patients taking medication assists healthcare professionals to provide the best possible care specific to each patient's needs. And of course, accurate weekly reporting of home medication adherence provides peace of mind to children of aging parents as well as other loved ones living apart who are unable to monitor adherence or administer care in person.
The MedFolio Electronic Pillbox is portable in design and as sleek and sophisticated as a new computing device. It is clearly a medication management tool of the 21st century with its ability to access medical information remotely, share medication records, and accurately track medication adherence.
Company president and veteran pharmacist Julie Fulmer-Mason recently said, "We are excited with the innovative developments of our pillbox technology and the direction we are headed for in 2013. We are still very much committed to individual families who want to effectively manage loved one's medications while they age at home." She added, "However, we are also now looking forward to developing relationships with healthcare organizations and giving them the opportunity to customize our online cloud server to their individual needs so they can remotely track home medication adherence and optimize efforts in reducing readmission rates."
More than an invitation, this is an opportunity for medical associations and advocacy based groups of the healthcare industry to keep up with the boomers and the preceding generation's needs by supporting the development of products such as the MedFolio Pillbox.
Every high tech medical development such as the MedFolio Pillbox helps sustain at-home living by months or years versus the far more expensive option of an assisted living facility or nursing home. That's a positive step forward that is often difficult to put into words.
About MedFolio
MedFolio, LLC. is a San Francisco based medical technology firm. Founded by a veteran pharmacist in response to the need for tools that aid in medication adherence, MedFolio launched the award-winning MedFolio Electronic Pillbox in 2011 to an overwhelmingly positive response. The device won top honors at the 2011 New Product and Technology Awards and is available from Amazon, SkyMall, & QVC, among other retailers. Please visit http://www.MedFolioPillbox.com to enjoy MedFolio web video content and learn more about this innovative pillbox technology.