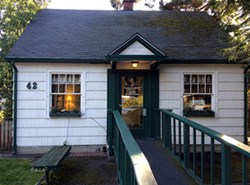 Medford, OR (PRWEB) December 31, 2013
A new section has been published to the website of Imaginears at http://www.imaginears.com/reviews to exhibit the hearing aids reviews of Medford OR residents. The brand new section will showcase video testimonies and written reviews dealing with hearing aids, hearing loss, tinnitus and various other conditions that prior and current patients have granted permission to be posted.
Imaginears, Inc. is thrilled about the new section as it will help web visitors see themselves in the stories of other people and help destigmatize hearing problems and hearing aids. It's important for Americans battling with hearing impairment to realize that they are not alone and to find out about current solutions such as hearing aids. The new hearing aid reviews page will help residents of Medford Oregon uncover a group of people that have gone through a similar experience.
There are numerous different reasons for hearing loss, and guests on the website should not attempt to self-diagnose. Symptoms including hearing loss, ringing in the ears or pain need to be evaluated by a professional Medford audiologist. A hearing test and physical examination of the ears conducted by an expert are the first steps in uncovering the root cause of any hearing loss. Don't presume that the treatments presented on the hearing aid reviews and testimonials page will be applicable in every case without a personalized assessment.
About Dr. Elizabeth Tangel
Dr. Elizabeth Tangel received her master's degree in Audiology in 1993 from Sacramento State University in California. She received her doctoral degree in Audiology from A.T. Still University School of Health Sciences in Arizona in 2008. She worked for an Ear, Nose and Throat clinic in Yakima, WA for 7 years before moving to the Rogue Valley in 2000. She particularly likes combining her computer skills with the art of Audiology in fitting patients with the most advanced hearing aid technology and getting the instrument adjustments just perfect for each patient. Dr. Tangel is a member of the Academy of Doctors of Audiology and continues to further her education by attending seminars and training on a regular basis.
About Imaginears, Inc.
Imaginears' mission is to provide the best quality hearing care possible. The audiologists and support staff at Imaginears are committed to serving their patients with kindness and compassion and always working together with patients and families to devise the best solutions. If that solution includes hearing aids, Imaginears is committed to recommending the technology that works best for your level of hearing loss, compliments your lifestyle and fits within your budget. Imaginears is a recognized leader in hearing protection, hearing loss diagnostics and fitting of hearing aids in Medford and Ashland Oregon.
Contact
Dr. Elizabeth Tangel
http://imaginears.com
Imaginears, Inc.
42 Hawthorne St
Medford, OR 97504
(541) 210-9648
Imaginears, Inc.
1875 Hwy 99 N, Ste 8
Ashland, OR 97520
(541) 855-3825