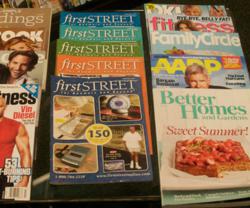 New sources are becoming available every day and existing media channels are offering new and expanded opportunities constantly. Choosing the right advertising medium is a critical component in media planning and buying processes. ~ Eric Sims
Minneapolis, Minnesota (PRWEB) September 23, 2012
The Audit Bureau of Circulations North America and The Economist jointly released the first-ever global Consolidated Media Report this September. Produced with support from ABC U.K., the report is the first to show audited data for The Economist's global print and digital entities across seven regions. Integral Media, as a media buyer, finds the audited data to be valuable with reliable print circulation and metrics from multiple channels.
The report says, "Average global print and paid digital circulation for the first half of 2012 totaled 1,554,949, with more than 88,000 paid replica and nonreplica digital editions sold separately from the print edition. Additionally it offers information that the total average print circulation from January through June 2012, as sourced from ABC/US and ABC/UK, is 1,466,818. The data speaks for how key the role of traditional media is today.
Integral Media has industry experience for over 12 years and uses multiple reliable data sources on a regular basis for ad buys. In addition to worldwide data, the Consolidated Media Report offers information about each region, which is easy to access since it is well organized and featured in separate sections of the report.
Certified Audit of Circulations Inc. (CAC) was established in 1956 to provide an objective verification of circulation claims for the benefit of media accountability and transparency of advertising investments.The Audit Bureau of Circulations (ABC) and CAC announced their intention to join forces to better serve U.S. newspaper publishers and media buyers on September 5th, 2012. Highlights of the North American section region-specific statistics are:

897,012 total subscribers
57,314 paid digital subscribers
259,348 average weekly unique devices
3.2 million unique monthly visitors to The Economist
"We depend on reliable, trusted data to show audited figures for the components of a magazine brand," says Eric, Sims, owner of Integral Media. "Our team of media professionals has helped companies generate more leads and sales for every media dollar spent with well-targeted and highly responsive media placements for our clients at the lowest possible cost. Additional metrics like this offer the information we use to make informed decisions and help our clients make better decisions along with us."
Understanding media circulation and metrics from multiple channels, when deployed effectively, is integral to the success of any business marketing campaign. Working with advertising agencies or directly with brand managers, company owners, or direct marketers, businesses can realize the biggest media "bang for the buck" when engaging marketing consultants that can interpret and apply such audited data to a best advantage.
Paul Rossi, managing director and executive vice-president of The Economist Group, Americas, said, "We work regularly with advertisers from around the world. The global CMR enables us to showcase our growing international reach in a clear and transparent way while also allowing advertisers to drill deeper and obtain regional data as well." One of many successful magazines that demonstrate a consistent strong readership, The Economist was established in 1843. Today The Economist magazine continues to be widely read as a compass for "Ideas People" as they look for guidance in an increasingly topsy-turvy world.
Contact Integral Media for a well crafted media buying execution by marketing consultants applying reliable data, and who guarantee more new leads and sales. Call 952-470-5254.