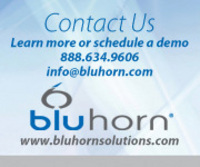 "You can tell this software was created by actual media buyers. This fills a software niche that hasn't existed before." 5M Media
Alvin, TX (PRWEB) June 4, 2010
The latest BluHorn Solutions software gives any media buying agency, in-house marketing departments and academic marketing educators access to highly effective and streamlined online media buying tools. The software was developed by industry professionals with over two decades of media buying and ad agency experience. Clearly understanding the needs of media buyers is what makes this software exceptional. BluHorn Solutions delivers an easy training platform, simplifies advertising buying campaigns, makes reports more practical and manageable, eliminates overwhelming worksheets, and has rapid response to technical service issues. All station orders and insertion orders can be emailed and printed with one click. The experience and logic used to develop the software is on point.
"You can tell this software was created by actual media buyers. This fills a software niche that hasn't existed before."
"I have been a media buyer/planner for 11 years ... and have been using BluHorn Solutions since March, 2010 and have really found it to be user friendly..."
5M Media
Media planning tools for ad agencies and in-house departments include broadcast and cable TV advertising, radio advertising as well as print advertising and outdoor placement. The software also includes extensive analysis tools which help the client to determine cost efficiencies and see where their audience is and what it's costing the client to reach them. Providing these excellent negotiating tools is an extreme benefit.
For academic marketing educators the software covers the full scope of media buying basics to full scale media training. Instructors will appreciate the minimal learning curve, giving them the ability to begin teaching students almost immediately; instead of having to spend intensive time in software training before being able to provide instruction. Integrating media buying in universities and college curriculums enables the student to acquire real world experience and gives a productivity edge to potential employers. BluHorn Solutions is not like your typical integrated marketing/communication courses which focus instructions on text book learning, instead it is a highly interactive process involving students working with actual media professionals using real data and helping them to establish a portfolio of data they can actually use when entering the work place.
"When students get their highly sought after advertising agency or marketing positions, they realize the enormous responsibility of media mix and cost efficiency and find themselves overwhelmed... BluHorn Solutions brings that experience into the classroom." -- Mary Jo Van Horn, cofounder of BluHorn Solutions
BluHorn Solutions was designed to be an entirely web-based advertising management software. With a computer and an internet connection it is possible to work, store and retrieve data from anywhere through a secure network. There is no software to download and no hosting fees. The price point for BluHorn Solutions is highly affordable and does not require extensive contracts. Clients will be using the software within minutes - it's just that simple. For more information about BluHorn Solutions, contact http://www.bluhornsolutions.com.
About BluHorn Solutions
BluHorn Solutions is an advertising software program developed to meet the needs of industry professionals and academic institutions for the advancement of their media buying strategies. The software takes the daily complex operations of media buying/ad agency functions and simplifies them in a streamlined, time saving and cost efficient manner. Making it possible to provide employees more flexibility and remote access. BluHorn Solutions was programmed using the skill of those highly knowledgeable of industry operations, insight and expertise to assist any advertising agency, in-house marketing departments or academic institutions to reach a higher level of performance. ( http://www.bluhornsolutions.com)
###