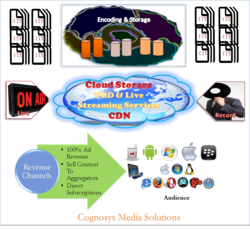 "CogMedia provides a system that uploads, encodes, catalogs, protects and publishes all types of media with Rights Management" says Rajiv, Product Manager, Cognosys Technologies.
Pune, Maharashtra (PRWEB) May 31, 2013
CogMedia is a cloud based platform that gives you complete control over your media. Armed with Active Directory – Shibboleth integration for user authentication, Digital Rights Management (DRM) to safeguard your intellectual property rights, Content management (Digital Asset Management or DAM) with efficient scalable storage integrating high performance delivery mechanism of digital assets, encompassing video, audio, images, documents, etc. CogMedia is a complete end to end digital media management solution that is useful to both content providers and content publishers.
CogMedia's three fold architecture catalogs, protects and publishes media assets in a efficient cost effective and scalable manner. Publishers can use the Push-to Publish features to simply drag and drop media from local computer to cloud with various encoding types automatically taken care of with preset management. Digital Asset Management features with CogMedia provide the tools to convert video from any format to any format including the popular formats like MP4, H.264, 3GP, WMV, AVI, MOV etc., providing streaming output which work across devices ranging from Windows, Apple Mac laptops to various phones & tablets including Android, iPad, iPhone, Blackberry.
DAM helps with:
Information audit
Manage metadata
Support newest media formats
High performance 'ingestion'
Low latency cache delivery
Monetize media
Content is protected through DRM and Content providers can establish subscription based service for viewers to subscribe to view content. CogMedia provides revenue channels with 100% ad revenues with in built advertisement management modules including pre-post roll and overlay Ads with VOD and live streaming, integration with 3rd party providers like Google Ads, content sale to aggregators, direct paid subscriptions for publishers wishing to monetize their media assets. Leveraging geo-replicated storage and adaptive streaming capabilities with Cloud integration, publishers can reach millions of users in a snap while safe guarding media rights.
Cognosys Technologies' CogMedia is best suited for organizations looking to commercialize and channelize their media assets with rights control for diverse media content spanning over images or audio/ video to reach thousands of internal or external users based on policy and permissions. CogMedia provides complete media management offering with Business Intelligence over subscription based audience and Ad revenue generation. CogMedia is well suited for multiple verticals from advertising agencies, TV channels to corporate houses.
About Cognosys Technologies:
Cognosys Technologies is a Red Herring Global 2012 Top 100 Winner, a Global ISV leading in Technical Consulting & Cloud Services leveraging cutting edge technologies to provide software solutions across domains with special emphasis on Storage Services, Media, Finance, HealthCare, ERP/ CRM, high performance cloud / cluster computing, complex event processing, enterprise mobile applications and creative embedded deployments. Combining extensive research with unparalleled experience, comprehensive capabilities across industries and business functions, Cognosys Technologies collaborates with clients to help them become high-performance businesses.