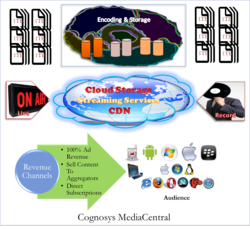 Cognosys MediaCentral helps you earn your rightful moolah with subscription based media asset publishing.
Pune, Maharashtra (PRWEB) February 28, 2013
MediaCentral launched by Cognosys Technologies is an eCommerce platform for media publishers ranging from media houses to individuals wishing to commercialize their media assets. MediaCentral provides integration with AD - Shibboleth and Business intelligence to media publishers, delivering complete control over media rights and access restrictions. Media management on the Cloud has become the need of the hour, but cloud management comes with mounting infrastructure costs for media storage and a huge amount of money spent on building custom solutions to manage the scattered media assets. MediaCentral is a One Stop depot for parking media for publishing, generating advertisement revenue, managing subscribers, notification services, supporting multiple desk and mobile devices. Organizations with minimal technical knowledge of cloud technologies and media capabilities can leverage MediaCentral to reach millions of people in a subscription based revenue focused model.
Digital Asset Management with MediaCentral provides end to end publisher to audience work flow with single click media uploads from any video format to any other video format like MP4, H.264, 3GP, WMV, AVI, MOV etc., live streaming URLs which work across devices ranging from Windows, Apple Mac laptops to various phones & tablets including Android, iPad, iPhone, Blackberry. MediaCentral Publisher can Drag & Drop upload Media files including pictures, audio, video from local computer to cloud using Push-To-Publish features without worrying about various encodings. MediaCentral also provisions very cheap archival storage to park retired media thus redressing the current storage cost woes. MediaCentral Subscriber interface provides identity management, statistics, ratings, comments, feedback and even facility for contest entry panels with categorized gallery media view, tag based searches and Graphical Statistics of Most Viewed, Best Rated, etc. "Cognosys MediaCentral helps you earn your rightful moolah with subscription based media asset publishing," said Agrawal, VP,APAC Sales." After a Deep insight into the workings of the Media Industry and the challenges brought by the technology shift, we felt there was a huge gap in what the industry has and what it needs."
MediaCentral provides revenue channels like 100% ad revenues, content sale to aggregators, direct paid subscriptions, for publishers wishing to monetize their media assets. Leveraging geo-replicated storage and adaptive streaming capabilities offered by Azure Media Services, publishers can reach millions of users in a snap at the same time safe guarding the media rights.
Cognosys Technologies' MediaCentral is best suited for organizations looking to commercialize and channelize their media assets with rights control, for diverse media content spanning over images or audio/ video to reach thousands of internal or external users based on policy and permissions. An end to end media catalogue offering with Business Intelligence over subscription based audience and Ad revenue generation MediaCentral is well suited for multiple verticals from advertising agencies, TV channels to corporate houses.
About Cognosys Technologies:
Cognosys Technologies is a Red Herring Global 2012 Top 100 Winner, a Global ISV leading in Technical Consulting & Cloud Services leveraging cutting edge technologies to provide software solutions across domains with special emphasis on Storage Services, Media, Finance, HealthCare, ERP/ CRM, high performance cloud / cluster computing, complex event processing, enterprise mobile applications and creative embedded deployments. Combining extensive research with unparalleled experience, comprehensive capabilities across industries and business functions, Cognosys Technologies collaborates with clients to help them become high-performance businesses.