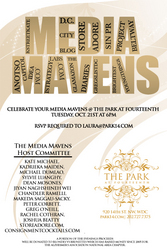 In DC, the mainstream publications are great resources on local cultural events like art exhibitions and theater performances but when people want to read about the hottest restaurants or clubs, they tend to visit blogs
Washington, DC (PRWEB) October 16, 2008
According to recent studies, over 20 million Americans read blogs every single day. When considering that many of the most popular blogs are political in nature, it should come as no surprise that millions of blog readers are located in Washington, DC. As a result, DC residents are flocking to blogs in increasing numbers to keep up with what's new and exciting in the local nightlife scene.
With this increased popularity of blogs focused on nightlife and entertainment in the Nation's Capital, DC City Blog and other prominent local influencers are hosting the Media Mavens Party, an event that promises to be the first of its kind.
The event will take place on Tuesday, October 21 at The Park at Fourteenth, located at 920 14th Street Northwest. It will bring together the most celebrated bloggers and online aficionados in Washington, DC for a night of schmoozing and socializing. Additionally, DC City Blog will be videotaping the event, which will be broadcast on DC City Blog TV.
"In DC, the mainstream publications are great resources on local cultural events like art exhibitions and theater performances but when people want to read about the hottest restaurants or clubs, they tend to visit blogs," said Laura Carlson, the event's producer. "So what we are trying to do is produce an event that allows them to meet and engage with their favorite bloggers face-to-face."
Local bloggers will include KStreetKate.Net, ProjectBeltway.com, TheGlamazonDiaries.com, DCCityBlog.com, ANotSoCapitolIdea.com, Brightest Young Things, StoreAdore.com, SIN PR , ConsignmentCocktails.com & IStrategylabs.com.
The Media Mavens Host Committee includes Laura Carlson, Kate Michael, Kadrieka Maiden, Michael Dumlao, Sylvie Luanghy, Dean Mosones, Jiyan Naghshineh Wei, Chandler Ramelli, Makeda Saggau-Sackey, Rachel Cothran, Peter Corbett, Greg O'Neill, Joshua Beatty, StoreAdore.com, ConsignmentCocktails.com & The Women of Blonde vs Brunette.
The Media Mavens Party is also proud to honor the women of Blondes vs Brunettes, an organization which has raised funds for the Alzheimer's Association National area chapter since 2005.
About DC City Blog
DC City Blog is an insider's guide on places to go and things to do in DC, written by people who live and breathe the city. In addition, DC City Blog helps local businesses connect with local bloggers and other online influencers. For more information visit us at http://www.dccityblog.com.
###