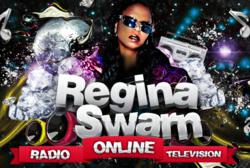 Beverly Hills, CA (PRWEB) February 20, 2013
Representatives with Media81 Group announced today that it has officially launched the new web site for Regina Swarn World Media Motion Pictures & Entertainment.
Regina Swarn is an international music sensation. She has worked in the music industry as an artist and a promoter for over 15 years, highly respected by bands & film makers. Her connections in the music industry are truly worldwide.
"Regina Swarn is passionate about music and the musicians that her company represents. Their clientele is both domestic and international, promoting artists like Alessandro Porcella, The Road Connection, Terrorway, Andrea Lanza, Albert one, Joseph Beggs & many more, "said Kevin McCarthy, Co-Founder & Creative Director of Media81 Group.
Regina Swarn World Media Motion Pictures & Entertainment is not a management company. It dedicates its resources to providing the very best promotion services to their clients. They have worked with musicians from every genre and style of music from indie to rock, from dance to classical and everything in between. Their online community is far reaching and provides an avenue for musicians to come together from around the globe. With online music submissions and event promotions, it's the place for all things new.
Regina Swarn World Media Motion Pictures & Entertainment offers music supervision, product placement, red carpet events, beauty & fashion, management, production, consultation and any other services that musicians need to get promoted.
They are one of the top web design companies in the world. When asked about her experience with Media81 Group, Regina said "Media81 is the best! They really understood the complexity of my needs and met them. I have nothing but great things to say about them."
Regina Swarn World Media Motion Pictures & Entertainment is ready to rock your next project. They design and create album covers, websites, branding, and image consulting. They produce products that get noticed. Check out their website at http://www.reginaswarn.com to see what they can offer you. They understand music and how to communicate with your audience, clients and customers. Regina Swarn World Media Motion Pictures & Entertainment knows how to get you into the spotlight.
About Media81 Group
Media81 Group is a professional advertising company located in greater Los Angeles, California. We provide our services for selective clients in United States.
Here at Media81 Group, we believe that an outstanding advertising will be more effective when we combine a client's brilliant ideas with our designers/directors creativity and knowledge.
Media81 Group features an integrated local team of directors, web consultants, creative designers, writers, programmers and marketing professionals that know how to get results. Creativity, extra oriented designs and solid business principals are the foundations of our company, we are dedicated to our clients, not because we "have" to, but because we "love" to promote you!
We make sure! Media81 generates media attention and name recognition with memorable flair. With experience and expertise that are unmatched, and with media connections that span multiple industries and markets, we bring our clients to the world. And we leave the world wanting more.
For more information about Media81 Group, visit the site at http://www.media81.com