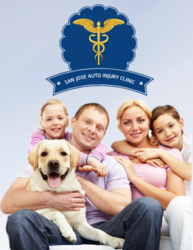 Our new chiropractic web solution also gives the client complete control over the content of their website.
Beverly Hills, CA (PRWEB) April 25, 2013
Media81 Group announced today that they have launched a new website for San Jose Auto Injury Clinic, a leading chiropractic office in Northern California.
"San Jose Auto Injury Clinic came to us with no established web presence," said Media81 Group CEO, Kevin McCarthy. "We've decided to take them to the next level by having a professional interactive website, since that's a proven way to convert site visitors into new patients."
In addition to the brand new website design, Media81 Group also helped San Jose Auto Injury Clinic gain their listing within Search Engines. "Our new chiropractic web solution also gives the client complete control over the content of their website, including the ability to change text, images or videos on their home page," states McCarthy.
Although the Internet is a global environment, it may be utilized effectively through search engines like Google, Yahoo and Bing as well as social media websites such as Facebook, Yelp, Instagram , YouTube and Twitter to create an effective, dynamic presence for local businesses. San Jose Auto Injury Clinic new website focuses on local patients across the bay area that need ailments of an auto injury including whiplash, sprains and strains, shoulder and neck pain, headaches, numbness, dizziness & vertigo, lower back pain, pain in legs or arms, car seat-belt injury.
Dr. Ahmad Rafii has been in practice since 1991, his primary practice focus is on treatment of patients who have been injured in car accidents. He has treated thousands of the car accident victims; he has acted as an expert witness in numerous car accident cases over the years. He is a trained chiropractic physician in the use of modalities, traction, spinal and extremity manipulation, foot orthotics, and nutrition. He has experience in treating both acute and chronic conditions as his patient load has always been a mix of people injured in sports, auto accidents and on-the-job, as well as the recreational weekend warrior who has stretched their physical limits. Dr.Rafii is a physician who believes proper function of spinal joints and good nutrition are keys for a person to achieve good physical balance.
About Media81 Group
Media81 Group is a professional advertising company located in greater Los Angeles, California. We provide our services for selective clients in United States. Here at Media81 Group, we believe that an outstanding advertising will be more effective when we combine a client's brilliant ideas with our designers/directors creativity and knowledge.
Media81 Group features an integrated local team of directors, web consultants, creative designers, writers, programmers and marketing professionals that know how to get results. Creativity, extra oriented designs and solid business principals are the foundations of our company, we are dedicated to our clients, not because we "have" to, but because we "love" to promote you! We make sure! Media81 generates media attention and name recognition with memorable flair. With experience and expertise that are unmatched, and with media connections that span multiple industries and markets, we bring our clients to the world. And we leave the world wanting more.
For more information, please visit our website or search us on Google http://goo.gl/sW6cx