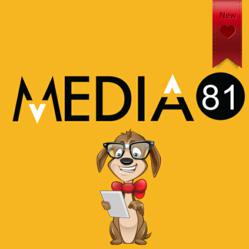 Responsive websites are replacing the traditional websites and tablet devices/mobile phones are replacing computers.
Beverly Hills, CA (PRWEB) February 21, 2013
Media81 Group today announced that it now offers professional design and programming of fully functional mobile websites in seven days!
"We will show you how to harness the power of the Smartphones that most of the people are carrying with them all the time! With your own mobile website, you can reach out your audience on their iPhone, iPad and even Android devices," said Kevin McCarthy, CEO of Media81 Group.
McCarthy noted that all the work is 100% created by their team locally, nothing is outsourced. Outsourcing can save a lot of money, but Media81 Group is a team of talented individuals who are passionate about web design, they love developing websites and web applications together as a team.
Responsive websites are replacing the traditional websites and tablet devices/mobile phones are replacing computers. Generally, businesses need a mobile website to effectively be in touch with their customers, whenever and wherever they are!
The new service will provide a custom mobile website that will impress website smartphones/tablets users, it will be also optimized for Smartphones to look and function on all models, including the iPhone, Android, Blackberry and Windows Mobile phones.
Additional features, such as click-to-call button, text messaging, and mobile map with step-by-step directions to their business location, will make it easy for customers to contact them.
"We can create a brand new responsive website that adjust itself to any device or convert your existing website to an easy to navigate mobile friendly website, Media81 mobile websites comes with an easy to update user interface that enables customers to update their mobile website free of charge." McCarthy said.
For more information, please visit: http://www.media81.com/mobile-website or search us on Google http://goo.gl/sW6cx
About Media81 Group
Media81 Group is a professional advertising company located in greater Los Angeles, California. We provide our services for selective clients in United States.
Here at Media81 Group, we believe that an outstanding advertising will be more effective when we combine a client's brilliant ideas with our designers/directors creativity and knowledge.
Media81 Group features an integrated local team of directors, web consultants, creative designers, writers, programmers and marketing professionals that know how to get results. Creativity, extra oriented designs and solid business principals are the foundations of our company, we are dedicated to our clients, not because we "have" to, but because we "love" to promote you.
We make sure! Media81 generates media attention and name recognition with memorable flair. With experience and expertise that are unmatched, and with media connections that span multiple industries and markets, we bring our clients to the world. And we leave the world wanting more.
Contact Details:
Kevin McCarthy
Media81 Group
433 N. Camden Dr. Suite 600
Beverly Hills, CA 90210, USA
Tel: 310.728.6000
Fax: 888.283.2839