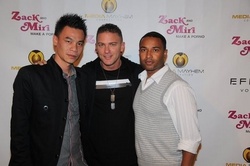 This was another great opportunity for Media Mayhem to be associated with and are absolutely excited about the exposure this brought to the company as well as our clients as this was covered by every media outlet available
LOS ANGELES (PRWEB) October 22, 2008
The film which features a cast filled with Hollywood's hottest stars, has been receiving rave reviews by critics around the country that has the industry buzzing about the next blockbuster hit on the horizon. Actors Seth Rogen (40-Year Old Virgin/Knocked Up), Elizabeth Banks (40-Year Old Virgin/Spiderman), Justin Long (The Break Up/Waiting), Traci Lords (Blade/Cry-Baby), Jason Mewes (Clerks/Dogma), Craig Robinson (Knocked Up/Pineapple Express) all join together in this all-star cast which centers around a couple of lifelong friends and roommates Zack (Seth Rogen) and Miri (Elizabeth Banks) are facing hard times and a mountain of debt.
When the electricity and plumbing get cut off, they seize upon the idea of making a homegrown porno movie for some quick cash, enlisting the help of their friends. The two vow that having sex will not ruin their friendship. But as filming begins, what started out as a business proposition between friends turns into something much more.
Media Mayhem was one of the exclusive sponsors for the film's premiere at Grauman's Chinese Theater as well as post-premiere after party festivities hosted by the Weinstein Company which took place at the world famous Roosevelt Hotel in Los Angeles. In attendance were Brandon Routh, Justin Long, Rex Lee, Elizabeth Banks, Seth Rogen, Traci Lords, Kevin Smith, Carla Gardini, Harvey Weinstein, Katie Morgan, Tisha Campbell-Martin, Liza Lapira, and dozens of other celebrities.
"This was another great opportunity for Media Mayhem to be associated with and are absolutely excited about the exposure this brought to the company as well as our clients as this was covered by every media outlet available," says MMC President Scott Messick. "MMC has been taking steps to bring our name more and more into the spotlight in 2008 and 2009 will find us doing more of the same except on a much grander scale…we have big things in-store for the future."
Written, directed, and edited by Kevin Smith (Clerks/Chasing Amy) and produced by Scott Mosier (Clerks/Good Will Hunting), Zack and Miri: Make a Porno, is bound to become the next cult classic hit for generations to come.
About Media Mayhem Corporation –
Media Mayhem's slogan of "fusing experience, strategy, technology and drive" describes a full-service advertising representation firm. Services include online and offline marketing, and event sponsorships. The firm specializes in building lifestyle-based advertising solutions for clients and engaging consumer audiences through branded film, music, art, fashion, sports, technology, entertainment and lifestyle experiences, across niche vertical markets.
Since its inception in 2006, Media Mayhem has created hundreds of successful campaigns as well as merged with Grace Advertising which has hosted dozens of exclusive parties and red carpet events in France, Italy, Canada - and cities across the United States including Los Angeles, New York, Miami, and Chicago.
More information is available at http://www.mediamayhem.com.
Photo Attachments