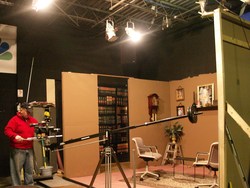 Dobson Media Training's studio and experienced crew can also work through public relations firms and advertising agencies who can utilize our expertise and studio for their clients
Ridgefield, CT (Vocus) May 16, 2010
"Dobson Communications offers Dobson Media Training either on-site at client locations or at its state-of-the-art studio in Deer Park, Long Island, New York," announced Brian Dobson of the public relations firm, online at DobsonPR.com.
"Through our JHD-Dobson Video venture, we can help companies simulate real time media interviews in our TV studio. We bring executives and spokespeople through the learning curve in our studio, to prepare them for TV, radio or newspaper interviews when news breaks about their products or services," he said.
"Recent crises show that companies unprepared to communicate promptly, confidently and effectively under a media spotlight will see brand values decline and company images damaged but Dobson Media Training can prepare managers for media interaction," said Dobson, a former journalist who has headed PR at two major corporations, including a Fortune 50.
He and Hugh Daly, founder of JHD Productions, combine their talents and experience to oversee media training for clients.
"Dobson Media Training's studio and experienced crew can also work through public relations firms and advertising agencies who can utilize our expertise and studio for their clients," said Dobson.
"We offer professional experience in news and production at Dobson Media Training's JHD-Dobson Video studio, where we advise clients on media interaction as well as film and edit interviews to show clients how news programs would present them on TV," said Dobson.
"Dobson Media Training brings senior news, public relations and production talent to client training," said Dobson, whose DobsonPR.com has helped clients build world class brands in industries from food and technology to toys and licensing and pharmaceuticals to heavy equipment.
The company said, "Overseeing media training are Brian Dobson, who was a journalist at Dow Jones and Reuters, worked in PR at the New York Stock Exchange and headed PR at a national consumer products company and at a global conglomerate; and Hugh Daly, an award-winning videographer and Director of Photography."
DobsonPR.com is based in Ridgefield, Connecticut, and JHD-Dobson Video is based at JHD Productions' studios in Deer Park, New York.
Dobson Communications, based in Ridgefield, CT, and online at http://www.DobsonPR.com, is a marketing communications and issues management and Crisis PR full service public relations firm, also has a complete video production studio through JHD-Dobson Video in Deer Park, NY. For information about DobsonPR.com contact Barbara Green at 203-894-9240 or Barbara_Green (at) DobsonPR (dot) com.
# # #