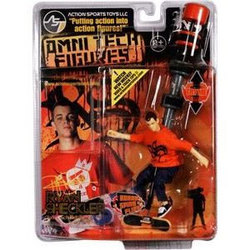 "Media Corp has been at the DRTV game a long time and understand the nuance of consumer behavior. We apply that expertise during the market test phase and it provides for a much better than average outcome for our inventor clients."
Overland Park, KS (PRWEB) April 2, 2010
OmniTech Action Toys, the manufacturer of the Ryan Scheckler Skate Board Action Figure, has selected Media Corp of Overland Park to license and handle DRTV media buying and distribution for a revolutionary new toy. This action toy is generating a lot of consumer and industry buzz because of its unique design and viral appeal. The DRTV campaign will launch immediately.
"DRTV will be at the foundation of the media mix for this product, and we have been selected to manage that effort," said Ed Waldberg, President of Media Corp, in a statement. The upcoming campaign will combine revised and new creative, and align the company's media strategy with sales. The spot will air primarily on national cable television outlets, several select syndicated programs and network TV with a secondary focus on local key market testing. Media Corp will also work with their digital marketing agency, Evans Media Group for the social media component of the campaign.
"YouTube, Twitter and Facebook will also play a role for us in marketing this particular product to its targeted segment." said Ed Waldberg. "But with the popularity of the X-Games, the phenomena of the skateboard culture and our planned DRTV placement on networks that fit the target consumer, like ESPN, Nickelodeon Teen, Disney and Animal Planet, we expect outstanding results for this very unique product."
Unlike most action figures, this skateboard toy has a marionette-like quality that really engages the user. Available accessories and imagination have drawn many owners to develop their own amateur videos. Many of these videos have already gone viral and are being viewed thousands of times each month on YouTube. Earl Pardo, VP and partner at Media Corp says, "This is a really unique toy and our combination of DRTV and Social Media is designed to not only reach the target demographic, but encourage the viral spread of the marketing message."
Media Corp provides leadership on direct response television to clients nationally and has been in the business of "As Seen on TV" for fifteen years. As such, they have seen successes like the Windshield Wonder™, Jupiter Jack™ and the Salad Blaster™ go from the drawing board, to the shelves at Bed, Bath and Beyond®.
Getting an idea or invention into the hands of the buying public is no easy matter and many an entrepreneur has tried and failed. Media Corp provides the path of least resistance for those entrepreneurs by test marketing products to determine marketability. "Our proven system of testing and scoring a product ensures the inventor a much higher chance for success," said Waldberg. "We have been at the DRTV game a long time and understand the nuance of consumer behavior. We apply that expertise during the market test phase and it provides for a much better than average outcome for our clients."
Contact:
Ed Waldberg
Media Corp
913-317-8900
# # #