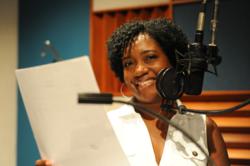 "We're not just talking about personal lifestyle choices," Executive Director Betsy Hunter explains. "We are talking about how communities make the healthy choice the easy choice."
Birmingham, AL (PRWEB) July 08, 2011
"Okra or hushpuppies?" "Both. Jumbo-sized portions, please." That's a sample of typical dialogue in restaurants across Alabama, and an exact quote from Media for Health's new radio drama, "Staying Well in Camberwell." Just like in the real world, the citizens of Camberwell gather in the kitchen (at Yo Mama's Kitchen, to be precise). And just like in the real world, their environment and bad choices may cost them their health, or even their lives.
According to the Department of Health and Human Services (HHS), African-Americans and Mexican-Americans are twice as likely to be diagnosed with diabetes as non-Hispanic whites. Alabama was ranked the second most obese state (among adults) in the 2011 report, "F as in Fat: How Obesity Threatens America's Future" from Trust for America's Future and the Robert Wood Johnson Foundation. Minority populations in Alabama are particularly affected, the study said.
"Entertainment is a powerful tool for informing people, so we decided to use that power for a good cause," says Betsy Hunter, executive director of Media for Health. "We really want to engage communities in a dialogue about chronic disease prevention."
"Staying Well in Camberwell" debuted on Thursday, June 30 during "The Caregiving Doctor Show," a syndicated magazine show hosted by Dr. Clarissa Smith on WAGG-610 AM. The new soap opera, written specifically for black audiences, blends critical health issues, like diabetes, high blood pressure and tobacco use, with day-to-day drama in the hope that the message will resonate. Episodes air every Thursday at 2 p.m. on WAGG; listeners outside the Birmingham DMA can hear episodes online at http://www.camberwellstories.org. Health and community experts join the doctor in the studio to offer insight and advice to callers.
"Promesas y Traiciones" ("Promises and Betrayals"), a Spanish radio drama that debuted on June 18, is broadcast every Saturday at 10 a.m. on La Jefa AM 620/1450/1500 during "Listen to Who's Talking," a talk show hosted by Ernesto Usma and teen intern Vianey Mendez. The characters on "Promesas y Traiciones" struggle with similar health problems as the ones on their sister show. Listeners outside of the area can listen to episodes online at http://www.promesasytraiciones.com.
Both soap operas are part of the larger Champions for Health initiative aimed at reducing obesity and tobacco use in Jefferson County, Ala.
"We're not just talking about personal lifestyle choices," Hunter explains. "We are talking about how communities make the healthy choice the easy choice."
About Media for Health
Media for Health develops, produces and evaluates entertaining programs that promote healthier living. Using the principles of entertainment education, Media for Health has developed or produced five health promotion serial radio dramas that reach targeted audiences across the country. Media for Health is a partner in the Champions for Health initiative and a member of the Jefferson County Health Action Partnership. Visit http://www.mediaforhealth.org to learn more.
About Champions for Health
Champions for Health is an initiative of the Jefferson County Health Action Partnership, a coalition of nineteen area nonprofits working alongside the Jefferson County Department of Health to encourage physical activity, reduce obesity, expand food access, advance smokefree policies and improve the overall health of Jefferson County residents. Champions for Health is made possible by funding from the Department of Health and Human Services through Communities Putting Prevention to Work. Learn more about the initiative at http://www.championsforhealth.org.
###