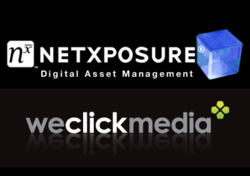 MediaPro will provide the opportunity for companies interested in Digital Asset Management to see firsthand the kind of solutions NetXposure and WeClick can provide.
Portland OR (PRWEB) October 31, 2011
NetXposure is pleased to announce its participation in MediaPro London, the UK's premier tradeshow dedicated to showcasing media strategies and solutions for brand marketers, and the agencies that support them. Held at Olympia 2, London, November 1-2, MediaPro will provide a one-stop shop for the leading vendors providing media management systems, online and mobile marketing solutions and more.
Jason Wehling, President of NetXposure commented, "We are thrilled to be exhibiting at MediaPro with our longstanding partner WeClick Media, and look forward to what I know will be a successful show. This event will provide the opportunity for companies involved in Digital Asset Management to see firsthand the kind of solutions NetXposure and WeClick can provide."
NetXposure's offerings in Digital Asset Management are particularly suited to MediaPro attendees interested in a simplified process for sharing digital assets among teams and workgroups. Today's media campaigns rely on easily accessible files, updated and distributed to collaborators with distinct roles and permissions. With a focus on Digital Asset Management since 2001, NetXposure incorporates many effective solutions for digital producers and marketing teams.
Visit NetXposure and WeClick at Stand: I110 to see an entire integrated Digital Asset Management solution. It will be a great opportunity to see and experience all of the NetXposure and WeClick capabilities.
About NetXposure:
NetXposure is a Digital Asset Management provider, delivering software solutions that improve team productivity by reducing the cost of organizing and distributing media. Launched in 2001, NetXposure's award-winning DAM solution is employed by many of the world's leading organizations across a wide range of industries.
About WeClick Media:
WeClick Media offer their clients the very latest in innovative marketing solutions including Digital Bespoke Publications, Micro sites,Viral Apps, Digital Asset Management solutions, iPhone applications, Rich Internet Applications and much more. WeClick Media was formed in 2006 by industry innovators, with the intention of creating online solutions for publishers and marketers. Our award winning solution ClickPages has grown from strength to strength and now available on Apple iPhone/iPad platforms.
# # #