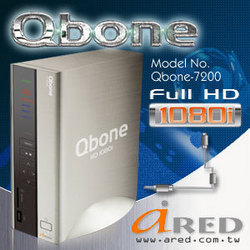 In the past, R&D engineers played an important role to decide chip features and forecast the market direction and customers' needs. At present, Ared Technology sees things from customers' perspective, and its innovation ideas are driven by user behaviors
Lake Wales, FL (PRWEB) May 29, 2008
Congratulations to Ared Technology Co., Ltd. on a successful presentation in Cebit 2008 -- its ceaseless effort in digital multimedia product development has been noticed worldwide. Ared Technology introduced Qbone7200, which was a particular highlight during the exhibition. It is a high definition network HDD recorder unifying multimedia player, 3 in 1 card reader, USB mass storage and PC connection in one. Continuing to offer the best service and most detailed product information, Ared Technology sincerely invites customers to visit Computex Taipei 2008 from June 3-7 (Booth No. Hall 3/G654). Its Qbone7200 Live demonstration will brings visitors the joy of excellent quality home entertainment.
"In the past, R&D engineers played an important role to decide chip features and forecast the market direction and customers' needs. At present, Ared Technology sees things from customers' perspective, and its innovation ideas are driven by user behaviors," Ared Technology Sales Manager, Cindy Chu, said. "We therefore believe our products could reach great satisfaction in the market through the profound understanding of user lifestyle and habits."
Armed with a powerful R&D team and engineers specialized in decoding and encoding technology, Ared Technology has built up its reputation and credit worldwide. While more than 80 percent of long-standing customers are small and medium enterprises in Europe, Ared Technology also successfully exports to U.S.A., Canada and Brazil. Its excellent services make Ared Technology stand out in the competitive global market.
Ared Technology aims to turn users' living rooms into luxury home entertainment centers through an easy-use remote control and operating system. Being well-received in Europe and America, Qbone7200 exquisitely integrates with DVD playing, TV recording, USB drive reading, MP3 music playing and storage. Its key function of PC-TV connection allows users to share files, photo and video at any time. It has also gained CE, FCC and RoHS certification.
As a compact-size media box with elegant and visually appearing looks, Qbone7200 is equipped with an internal 3.5" desktop SATA hard drive, and its storage capacity is over 1000GB, which contains 2,800 quality recorded movies or more than 1,000,000 photos on average.
Qbone7200 stand-alone system could freely connect to either a PC or laptop through LAN and wireless networks. In terms of its audio-visual RM/RMVB formats support and built-in 3 in 1 card reader socket includes SDHC, users could watch or download any films as well as share files with friends easily. Qbone7200 also offers input/output ports and enables users to access various media files not just from internal hard drive but from USB or MP3 player external storages.
Moreover, the unique playback feature of Qbone7200 ensures that users never miss their favorite TV programs and movies. If users are interrupted while watching TV shows, users could record immediately, then go back to catch up on the previous scenes. All recorded content can be finely stored and copied on hard drive.
Ared Technology has dedicated itself to providing high security system as well. In particular, with its power control management and heat dissipating device, Qbone7200 could shut down automatically to avoid overheating and fan failure, effectively assuring long product life cycle.
As following the rapid market trend, Ared Technology keeps strengthening R&D capability, all engineers attend regular technical seminars and training courses, and the product management team is required to fully understand the products.
Ared Technology always looks for the best interest of customers and creates a win-win deal, as well as forms a long-terms cooperation with customers. According to OEM/ODM services, it offers market research reports to indicate more precise target market for customers, and suggests whether the product fits the market need. Its R&D engineers also come up with the technical solution to ensure the system compatibility and excellent performance. This assistance definitely saves customers time and reduces the cost.
###