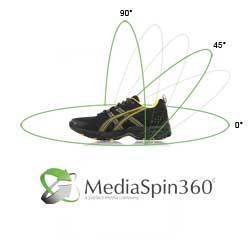 In a recent survey, 95% of all retailers who have added 3D photography stated that their online sales have increased as the result. 28% of all online store owners have or are leaning towards implementing 3D product views.
Dallas, Texas (PRWEB) January 19, 2010
Preface Media announces launch of MediaSpin360 to deliver professional and cost-effective 3D product photography solution for the retail and wholesale markets. 360-degree product photography service enables online retailers to showcase their products in new and exciting ways. Online customers can spin, zoom, pan, rotate and analyze every square inch of the product as if they were at the physical store. Going one step further and combining 3D with an online product configurator lets customers personally customize a product and view it from all angles and at all levels of detail. These features attract store traffic, increase buying confidence, and reduce merchandise returns.
Product photography has always been an expensive service, afforded only by companies who had bigger budgets. Typically companies could only justify photographing a few shots of the newest and best-selling products. MediaSpin360 aims to bring professional 3D photography at the prices comparable to or lower than the cost of traditional photography.
MediaSpin360's state-of-the-art robotic equipment controls 3D photo shoots with electronic precision resulting in seamless 360-degree views. Photos of the products can be taken at any elevation angle from 0Ú to 90Ú as the product rotates around the vertical axis. The number of shots per one 360-degree revolution, known as a spin-set, typically varies between 12 and 48. MediaSpin360 photographers and creative services staff work with the customer to determine the optimal lighting and background for the photo shoot. These customizations are important since some online retailers prefer a more colorful background instead of a basic clinical white look. After all the shots are taken and processed they can be used for offline printing purposes such as product catalogs, in addition to online viewing.
"Some version of 360-degree photography is being offered by a number of companies," says Chief Solutions Architect Mike Sokoryansky, "but MediaSpin360 offerings go beyond the photography services. Thanks to the imaging platform of our parent company, Preface Media, we can receive customer products, photograph them, touch up the images and process them for custom product configuration, upload the results to our high capacity image servers, and integrate the customizable 3D product viewer into existing online store within just a few days. The viewer offers full branding, customization, dynamic image zoom, pan, spin, hotspot, and external hyperlinking. And since it's implemented in Adobe Flash it is universally compatible with all web browsers."
360-degree photography is rapidly gaining acceptance among Internet retailers and acclaim among their customers. In a recent survey, 95% of all retailers who have added 3D photography stated that their online sales have increased as the result. 28% of all online store owners have or are leaning towards implementing 3D product views. Today's tough economy demands that successful retailers go above and beyond their competitors in attracting customers. While it may seem tempting to trim down the marketing budget, visionary marketers are taking advantage of this new technology to build customer base and increase sales. 3D photography rates start as low as $88 for a product spin-set. Call us for a quote at 469.342.6767 or visit us at MediaSpin360 for demos.
About Preface Media, Inc.
Preface Media Inc. provides client care, technical expertise, creativity, and integrity for Web applications. We develop and host custom dynamic Web content solutions that seamlessly integrate into your existing infrastructure and bring your business to life online. The Preface8 platform offers one of the industry's most robust dynamic image servers and award winning interfaces to suit all your rich interactive application needs. We are equipped with state-of-the-art photography studio (MediaSpin360) to showcase your products to the next level with a complete 360° interactive solution. We are your one stop solution for all your rich media needs which includes interactive product configurators, online video demos, flash digital magazines and virtual 3D.
PRESS CONTACT:
Jessica Washington
Preface Media, Inc.
Tel: 972.996.4717
Fax: 866.616.9556
Email: jw(at)prefacemedia(dot)com
Web Site: http://www.PrefaceMedia.com
# # #