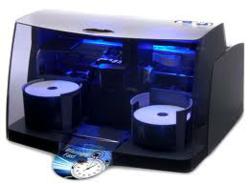 Exton, PA (PRWEB) February 08, 2012
Media Supply and Primera are excited to offer special discounted upgrade pricing on Bravo 4100-Series printers and publishers and Bravo 4102 XRP publishers. Discounted pricing on these new Primera systems is available to customers who own Primera disc printing or publishing systems that are at least three years old and out of warranty. Media Supply's representatives are available by telephone at 800-944-4237, and online through live chat at http://www.mediasupply.com to help customers choose a new Primera Bravo system that best suits their production needs and to ensure upgrade eligibility by pre-verifying the serial numbers of older systems with Primera. Customers who would like to upgrade from their old equipment are not required to return the old system. Primera will simply mark the old system as decommissioned, meaning that it will no longer be eligible for technical support or repairs.
While Media Supply cannot advertise the special upgrade pricing, it has announced that there are significant discounts available, from $175.00 to $975.00, depending on the upgrade system you order.. In addition to the upgrade discounts, Media Supply is offering additional savings through Primera's gas card rebate program.
The Primera Bravo 4100-Series features much faster print speeds than all previous Primera models (it can print a full-color, full-coverage disc in near-perfect quality in about six seconds), faster, quieter robotics and money-saving, separate cyan, magenta,yellow and black ink cartridges.
About Media Supply:
Media Supply, Inc. offers data duplication, equipment and supplies designed to meet the requirements of those wishing to distribute information in data, audio or video form. The company's key products are DVD, CD and Blu-ray publishers, USB duplicators, digital color disc printing services, and premium quality DVD, CD and Blu-ray recordable media. Media Supply is located in Exton, Pennsylvania. For more information visit http://www.mediasupply.com or call 1.800.944.4237.
About Primera Technology:
Headquartered in Plymouth, Minnesota, Primera Technology, Inc. is the world's leading developer and manufacturer of CD/DVD/BD duplication and printing equipment. Its products are sold in over 160 countries and have been installed at more than 85 percent of Fortune 100 companies. More information about Primera, its history and products is available on the Internet at http://www.primera.com or by calling 1-800-797-2772 (USA and Canada). Outside of the USA and Canada, call (763) 475-6676 or FAX (763) 475-6677. E-mail to sales(at)primera(dot)com.
###