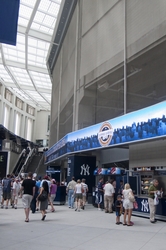 The House That We Built
Cambridge, MD (Vocus) October 28, 2009
As the New York Yankees begin to play for the Major League Baseball World Series championship, fans are taking a look back at the team's remarkable first season in the new Yankee Stadium. Built to replace the original 1923 stadium, also known as the "House That Babe Ruth Built," the new Yankee Stadium was designed to be modern while maintaining the characteristics that comprise the rich history and tradition of the New York Yankees. Completed in April 2009, the new $1.5 billion Yankee Stadium is the second most expensive stadium in the world and features an array of products from GKD-USA, a leading provider of creative technological leadership in woven wire mesh for industry and architecture.
Approximately 33,000 square feet of the stadium -both interior and exterior surfaces- were clad using GKD's stainless steel woven mesh products including Tigris, Tigris PC and Omega 1505 PC. Tigris is flexible in one direction, while Tigris PC and Omega 1505 PC are rigid. All three of these products are made of AISI Type 316 steel and are 100 percent recyclable. Attachment methods differ for these products depending on the fabric's application, panel size, structural characteristic, scale and the project's design intent. GKD is committed to working closely with their customers to develop attachments techniques that fit specific customer needs.
For the Yankee Stadium, these GKD products were selected for their ease of maintenance and extended lifetime performance, and were applied to wall cladding, elevator wall cover panels, handrail and railing infill panels, as well as stair enclosures. In particular, architects and designers chose the company's Tigris material for its unique design contributes to the pinstripe look that is characteristic of the New York Yankees. GKD also etched the New York Yankee logo onto the panels above elevators using a media blasting process.
As a high profile project, the new Yankee Stadium posed a few challenges. Because the stadium needed to be completed and operable by opening day in April 2009, deadlines were incredibly tight.
"Everyone working on the project felt the time crunch. But we ran with it. Ensuring supplies arrived on time and were installed quickly and efficiently was key in order to meet our deadlines," said Chris Esterson, Senior Project Engineer at GKD-USA. "GKD has a reputation for making everyone on our team, from sales and technical service to our executive personnel, available to make certain customers' needs are met. In fact, many of our team members are on-site throughout the duration of a project and Yankee Stadium was no exception."
The circular shape and concrete structure also proved to be complex, especially when attaching steel frames. Architects made structural changes along the way, especially in the ramp and stair area, that impacted GKD plans. However, GKD met every intricacy on the project with flexibility and innovation. When the Great Hall of the stadium left little room overhead for the installation process, GKD developed a unique method of installing material. Additionally, when the architecture of the building required certain lines to slope particular ways for aesthetic appeal, GKD-USA engineers worked with the company's German facility to produce special-made panels and created a custom process to rack the panels after installation.
Throughout construction of the stadium, all involved felt a great sense of pride and accomplishment. The New York Yankees have played a large role in the history of baseball and while the old Yankee stadium was known as "The House That Babe Ruth Built", workers on the new stadium wore shirts that read "The House That We Built", listing every company and local union that worked on the project.
"This was a really special project. It's an opportunity that comes around once in a lifetime, so being selected to work on the stadium was a huge honor. I recently went to a game and just sat there looking at all the GKD products in the stadium. It was really great knowing that we were a part of something so big," said Leon Shockley, Director of Field Operations for GKD-USA.
About GKD-USA
With a 75-year tradition of German engineering, precision manufacturing and technical innovation, GKD has evolved a collection of extraordinary woven metal fabrics engineered for the architecture and design communities. The MetalFabrics™ are produced in various weights, textures, and degrees of transparency and flexibility and are specified by internationally renowned architects and designers in interior and exterior applications worldwide.
Media Contacts:
Joslyn Fagan
Function:
404-524-3075
Dave Carduff
GKD-USA
410-901-8417
###