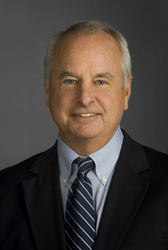 I know how the new laws will affect businesses and the people who run them. When PBN asked me to write this series, I was honored – and I knew I had a responsibility to lay out the implications and facts clearly and concisely. - James Purcell
Hyannis, MA (PRWEB) January 25, 2014
After a stellar career as both a successful trial lawyer and then CEO of Rhode Island's dominant health insurer, Blue Cross and Blue Shield, James Purcell did not miss a beat in his transition into becoming one of the leading lights of the alternative dispute resolution (ADR) world. His busy appearance schedule included a presentation on behalf of the Massachusetts Bar Association's ADR Committee in November 2013 concerning ethics in mediation, and his ongoing six-part series appearing on the editorial page of the Providence Business News.
"Discussing the issues of recent healthcare reform requires an in-depth experience and inside knowledge of the industry," said Purcell. "I know how the new laws will affect businesses and the people who run them. When PBN asked me to write this series, I was honored – and I knew I had a responsibility to lay out the implications and facts clearly and concisely."
The editorial series' first part appeared on October 14, 2013, with subsequent parts appearing every few weeks. The final two parts of his in-depth study of healthcare reform from a business point of view are scheduled to appear in January 2014.
Mr. Purcell has established himself as one of the most sought-after healthcare mediation professionals in the country, and is a member of the AMICUS Mediation & Arbitration Group. He was recently one of the few invited to attend the prestigious AMICUS Advanced Mediation training held in Boston, Massachusetts.