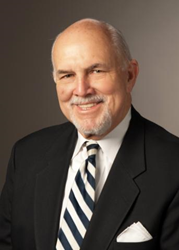 Joining Mediation.com was an obvious step once I decided to focus more broadly on providing clients who need my specific conflict engagement and resolution skills acquired as a litigator, mediator, arbitrator, and special master. - Michael Dewberry
Jacksonville, FL (PRWEB) November 15, 2013
Seeking to bring his four decades of experience in conflict resolution to a wider audience, Michael J. Dewberry has joined the premier online destination for consumers seeking mediation services, Mediation.com.
"Joining Mediation.com was an obvious step once I decided to focus more broadly on providing clients who need my specific conflict engagement and resolution skills acquired as a litigator, mediator, arbitrator, and special master," Dewberry said. Mediation.com allows me to do that."
Mr. Dewberry's litigation, mediation, and arbitration experience has included commercial litigation, such as contract disputes, property disputes, disputes concerning insurance coverage and policies, and employment dispute issues including discrimination, restrictive covenants, wage and hour, and negotiation of the hiring or separation of highly compensated executives. He is a Certified Mediator in both the Florida Supreme Court and the U.S. District Court for the Middle District of Florida.
Due to his 30 year background in representing hospitals, physicians and other healthcare entities, he brings additional experience and insight to conflict between these type entities, particularly dissolution of professional relationships. He was named Jacksonville Health Care Lawyer of the Year by Jacksonville Business Journal in 2012.
As a Special Master, Mr. Dewberry was appointed in 2011 as the Temporary Special Master for the Engle-progeny tobacco litigation in the Middle District of Florida, assisting the Court in managing a 3000+ docket of individual tobacco cases. During the time he has served in this capacity, he has been privileged to work with some of the finest products liability lawyers in the country.
Mr. Dewberry is an Honors graduate of the University of Florida School of Law where he served as the Executive Editor of its Law Review. He has also been named in the Best Lawyers in America in the fields of Health Care Law, Labor Law and Employment Law every year since 2006, in addition to Florida Superlawyers and Florida Legal Elite deignations by his peers. Rounding up his credentials is his AV Preeminent Rating by Martindale-Hubbell and his membership into the Florida Circuit-Civil Mediator Society. He is also a member of the Academy of Court Appointed Masters.