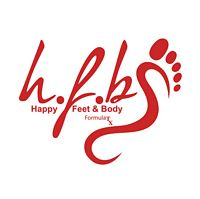 This is the 2nd year for Happy Feet & Body Formula to exhibit at the two-day, energetic, and spectacular Baby Boomer and Senior Expo
Southlake, Texas (PRWEB) September 29, 2014
Happy Feet & Body Formula, a company providing balm and lotion products with natural ingredients that create a thermogenic effect on the applied areas, will join more than 100 exhibitors at the Baby Boomers & Seniors Expo in Puerto Rico on September 27-28th.
The Baby Boomers & Seniors Expo, which will be held at the Puerto Rico Convention Center, is the largest event in Puerto Rico and the Caribbean targeted towards people over 50 years old. The comprehensive event includes seminars, health clinics, exercise and dance classes, and more. The free expo aims to provide entertainment and education for baby boomers and senior citizens to help them live healthier. This will mark the second consecutive year that Happy Feet & Body Formula has exhibited at the event.
Happy Feet & Body Formula's unique blend of various natural ingredients used in a combination of balm & lotion treatment helps improve circulation, minimize scarring, and create smoother skin. When combined, the formula reduces aches, pains, swelling, and breaks the dry skin cycle. Happy Feet & Body Formula's thermogenic action generates energy in the area where the balm and lotion is applied. The formula improves the dilation of blood vessels, increasing circulation and efficiently carrying the essential oxygen and nutrients to the applied areas.
"This is the 2nd year for Happy Feet & Body Formula to exhibit at the two-day, energetic, and spectacular Baby Boomer and Senior Expo," says Doris Martinez, from Happy Feet & Body Formula, "The remarkable event is dedicated for baby boomers and senior citizens, providing them the latest on health, staying active, resources, educational information and lots of fun entertainment. We love this event because it is not only focused to the seniors, but also on the caregivers and families when it comes to the latest in health and staying YOUNG!"
Visit [Happy Feet & Body Formula at the Baby Boomers & Seniors Expo in Booth #[?]. To learn more about Happy Feet & Body Formula or to purchase products online, visit http://happyfeetformula.com