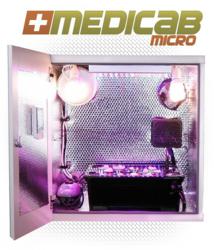 We refuse to release a product that doesn't truly meet the needs of our customers and work as advertised
Orange County, California (PRWEB) May 28, 2013
The legal mess surrounding medical marijuana has spread far beyond the borders of California as an additional 18 states plus Washington, DC struggle with a lack of regulation and mixed messages from the federal government (see the Ogden Memo ). As NBC Los Angeles reports, dispensaries continue to be shut down and this conundrum has qualified patients so fed up, (no pun intended), that they have resorted to grow boxes to grow their own medicine. Universal Hydro's new MediCab Micro (http://www.cabinetgrow.com/) is just what the doctor ordered.
For decades, first time growers have struggled to build their own small, at home indoor grow systems. Countless companies have tried to fill this void by selling prebuilt micro grow solutions. Some spray painted plywood enclosures appear as though they were built in someone's garage while other poorly designed systems were built in a computer PC case. Until now, none have been able to truly solve the major issues faced by new bedroom gardeners; odor control, light leak, and learning how to grow hydroponics.
Grow box manufacturer Universal Hydro out of Southern California has been able to address these concerns in their larger, commercial grade grow boxes, but according to the company it took two years in development to scale a system to fit on a countertop without sacrificing the core functions required for a stealth grow. The companies master grower, Steve Fields, had this to say; "We refuse to release a product that doesn't truly meet the needs of our customers and work as advertised. It took us a great deal of R&D and several design variations, but our patience paid off in a fantastic personal grow box."
The new grow box, appropriately named the "MediCab Micro", features hybrid LED and compact fluorescent grow lights to keep electricity usage to a bare minimum, a custom odor filter that's a miniature version of those found in commercial grow rooms, both a hydroponics and soil grow kit, all required growing accessories, and even an "Easy Grow Guide" (download it here) to eliminate the learning curve for first timers.
In today's cloudy legal environment, it's no surprise that these systems are selling well…really well. Steve also had this to say; "Due to an overwhelming response from our customers, we sold out of our first batch run of systems in four days." They had expected the batch to last a month. Good timing for a great product.
Universal Hydro is a manufacturer and seller of high quality and discreet indoor growing equipment since 2008. The company mission is to offer quality alternatives to other gimmicky and poorly made grow systems. Products include complete grow boxes, hydroponic systems, grow tents, grow lights, and "do it yourself" kits. The company's dedication to excellent service, reasonable pricing, and constant innovation sets them apart in the emerging hydroponics industry. Universal Hydro can be contacted at its Southern California headquarters;
Universal Hydro
17801 Main St #E
Irvine, CA 92614
888-544-9376
http://www.cabinetgrow.com
http://www.facebook.com/UHydro
Follow- @UHydro